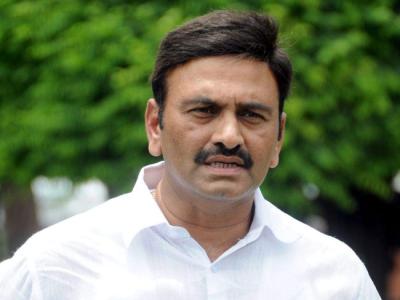 MP from Andhra Pradesh Raghuramam Krishna Raju who represents the Narsapuram constituency became a big sensation when he turned rebel. Since then, the rebel MP has been troubling and giving shocks to the Andhra Pradesh government. He even sought the cancellation of Jagan's bail from the court.
Now the Andhra Pradesh government in turn shocked the rebel MP by not adding his name to the list of invitees who will be present at the ceremony of unveiling the statue of legendary freedom fighter Alluri Sitarama Raju. This made the MP change his plans of reaching Bhimavaram town.
It has to be mentioned here that RRR made all the arrangements for the meeting and even got orders from the Andhra Pradesh High Court that no cases and arrests can be done without following the procedure. But the YS Jagan Mohan Reddy-led government spoiled all his plans.
Though RRR was not invited, his presence made it to the deadlines as his followers took out a rally in the Bhimavaram town. The Narsapuram MP's followers raised slogans supporting him.
The rebel MP said that he is shocked after knowing that his name is not mentioned on the invitees' list. On this occasion, the MP lashed out at the government and asked what made the government not follow the protocol. He said that he is the concerned MP and that not inviting him is nothing but a violation of protocol.
Earlier, we saw the protocol violation row in other Telugu state Telangana after CM KCR and Governor had a confrontation with each other. When everyone thought that the issue would be over, a new protocol row popped up.
 It appears like the protocol issue had hit the divided Andhra Pradesh this time. The change in both cases is that, in Telangana, Chief Minister and Governor had issues, and coming to Andhra Pradesh, the state government and the rebel MP are having issues.
Coming back to the bike rally, it did not make much noise as there was no big crowd at the rally. The planned rally received a lukewarm response that was planned by the rebel MP followers and supporters.