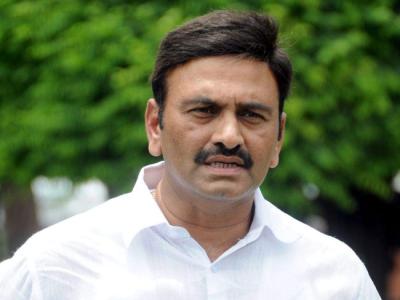 As usual Narsapur's renegade YSRCP MP Raghuramakrishnam Raju  has proved that his all hype and hoopla and nothing much in terms of substance. Like all his threats to visit Bhimavaram, the latest threat too began with a bang and ended with a whimper. He pompously announced that he would attend Modi's programme in his constituency, made a big issue out of it and finally, dropped his plans to visit Bhimavaram.
Raghuramakrishnam went to court, obtained permissions and said that he would definitely attend the PM's programme as Bhimavaram was his own constituency. He gave statements galore daring YS Jagan to stop him if he can. He boarded the train in Lingampalli for Bhimavaram, but got down in Begumpet police station and tamely dropped his plans to visit his home constituency. Though he said that intel sleuths were tailing him and that his supporters were being foisted with cases in Bhimavaram, sources say that the real reason for dropping out is something else.
Highly placed sources say that the Prime Minister's Office has not included RRR's name in the list of dignitaries who would attend the programme.  Sources say that it is the PMO that decides who would share the stage with Modi. Sources also revealed that the PMO did not want to annoy the state government, which is on friendly terms with the ruling BJP at the Centre especially before the presidential elections. So, they reportedly advised the MP not to create a scene. It was this firm instruction that did the trick, say sources.