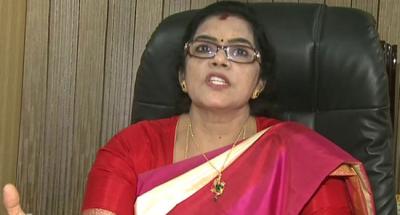 Disappointed and dejected over not being made a minister, this former union minister from the YSRCP is said to be looking towards the TDP and is all set to contest on the TDP ticket from Srikakulam in 2024. He is said to be in touch with the TDP leaders and may well take the plunge sooner than later.
Yes. We are talking of former union minister Killi Krupa Rani. A medical professional, she comes from the influential Kalinga community. She joined the Congress in 2004 and contested against TDP heavyweight K Yerran Naidu. In 2014, she trounced him and even went on to become a union minister under Manmohan Singh. In the later developments, she lost to TDP in the 2019 elections. In fact, she stood third, behind YSRCP's Reddy Santhi.
Later, she joined the YSRCP and was made the district YSRCP president. But, after the recent cabinet reshuffle, ousted minister Dharmana Krishna Das has replaced Kruparani. Since then, her stars are down. She was not made an MLC and she has been ousted from the district president's post.
To add insult to injury, she was not allowed on to the tarmac when Jagan recently visited Srikakulam. Since then, there is a talk that she is planning to join the TDP and to contest on the party ticket in the 2024 elections.  There is a talk that she is all set to join the TDP soon. There is no confirmation, however, from Kruparani herself.