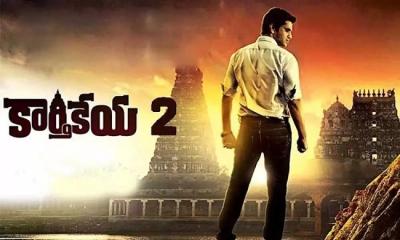 Touted as India's epic mystical adventure, Nikhil Siddharth and Chandoo Mondeti's 'Karthikeya 2' is hitting the screens on 22nd July. The makers announced the release date officially. This sequel of the super hit mystery drama 'Karthikeya' which came out in 2014 has been in the making for a long time. The promotions have already begun and the trailer got a terrific response too. The audience are curious to watch this film and find out what a talented director like Chandoo Mondeti has in store for them. Chandoo is known for his hit movies like 'Karthikeya', 'Premam' and OTT film 'Bloody Mary'.
While 'Karthikeya 2' is releasing on 22nd July, there are reports arriving that this crazy project might get postponed to August 5th. There is no official update regarding this news but reports suggest that Dil Raju is adamant about getting Nikhil's film postponed in order to create space for his movie 'Thank You' which is coming out on 22nd July. If it happens, 'Karthikeya 2' will be locking horns with Kalyan Ram's big-budget fantasy drama 'Bimbisara'. We need to wait and see how things turn out in the coming days.
Nikhil Siddharth will be seen in the title role of 'Karthikeya' while heroine Anupama Parameswaran plays the role of Mugdha. Elite Bollywood actor Anupam Kher will be seen as Dhanvantari while Srinivas Reddy plays the role of Sadananda. Harsha Chemudu's role is named Suleman while Aditya Menon is going to be seen as Santanu. As it is known, 'Karthikeya 2' is having a pan-Indian release. Apart from arriving in Telugu, it is getting dubbed in Hindi, Tamil, Kannada and Malayalam languages. Written and directed by Chandoo Mondeti, ZEE company seems to have acquired the digital and satellite rights of this film.
This movie is produced jointly by TG Vishwa Prasad and Abhishek Agarwal. Kaala Bhairava is the music composer while Anupam Kher is playing a vital role. Vivek Kuchobotla is working on this film while Karthik Ghattamaneni is the cinematographer. Going by trailer, talented filmmaker Chandoo Mondeti seems to have readied a tight script with a gripping screenplay this time.