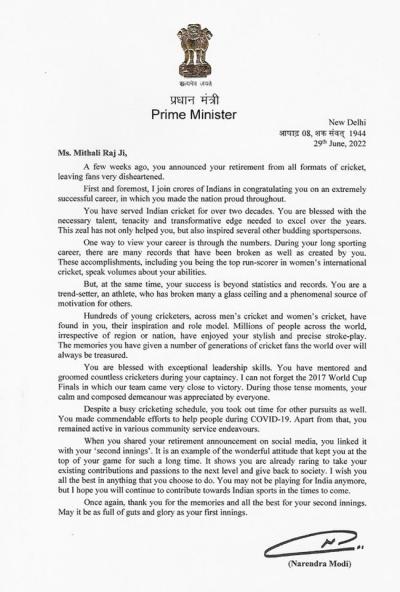 Legendary Indian women's cricketer Mithali Raj had an illustrious career that lasted for over two long decades. During her stint as a player and skipper, Mithali Raj gave her best to the team and groomed the young players. The current skipper Harmanpreet Kaur played under her. After a dreamy career, she recently announced her retirement.
Weeks after her retirement, she received a special letter from none other than Prime Minister Narendra Modi and the ex-cricketer is on cloud nine with this. Thanking the Prime Minister for his appreciation, Mithal Raj said that, she is feeling honored.
"It's a matter of singular honour & pride when one receives such warm encouragement from our Hon'ble PM Shri @narendramodi ji, who is a role model & inspiration for millions including me. I am overwhelmed by this thoughtfully worded acknowledgment of my contribution to cricket," Mithali Raj tweeted.
"I will treasure this forever. I feel inspired and encouraged for my next chapter and will strive hard to live up to the expectations of our Hon'ble PM in contributing towards the growth of Indian sports," Mithali Raj added.
The specialty of the letter is that it starts with Prime Minister Narendra Modi congratulating Mithali Raj for having a long career. PM Modi also shed light on the special abilities of the player that made her play for a longer time.