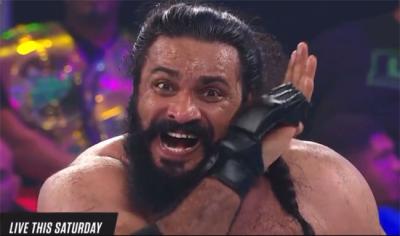 Without a hint of doubt, 'Pushpa: The Rule' is one of the most awaited films in the country. With the sensation, 'Pushpa: The Rise' created, people want to know more about the life story of Pushparaj played by Allu Arjun. Not just in the South but the Northern audience fell in love with Bunny's acting and mannerisms in the movie. The dialogues and iconic mannerism of 'Pushpa' have become a part of daily lives and songs of 'Pushpa' are being heard in every corner of India which explains a lot.
The dubbed version became so popular that even big celebrities started copying Allu Arjun's 'Thaggede Le' mannerism. A lot of cricketers including Hardik Pandya, Virat Kohli and others did it. Foreign players like Dwayne Bravo and a couple of Bangladeshi players in their league did the mannerism surprising everyone. Even a footballer in Europe did it which shocked many.
Now, 'Pushpa' mannerism sprung up in WWE. Prolific wrestler Saurav Gurjar imitated Pushparaj after his victory in the fighting ring. This video was uploaded by Saurav himself and it is going viral on social media now. He even tagged Allu Arjun and this explains the level reached by 'Pushpa' and its team. They are now focusing on the second part which is yet to begin but it is one of the most awaited movies in the country. It is expected to create a storm at the box office when it hits the screens. Let us wait patiently till it happens.
मैं झुकेगा नहीं rn😡

जय हिंद 🙏🇮🇳 @alluarjunrn #AlluArjunrn #WWErn #wweindiarn #NXTrn pic.twitter.com/jJSKkZWYqA

—rn Saurav Gurjar (@Sanga_WWE) Junern 30, 2022
rnrn