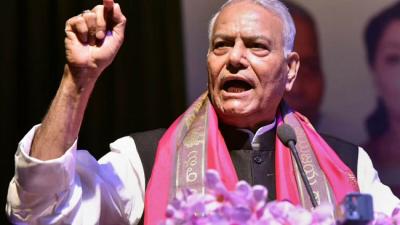 The upcoming Presidential polls is going to be a crucial battle between the Bharatiya Janata Party's National Democratic Alliance (NDA) and all the opposition parties. The like-minded parties that are against the saffron party came under one roof to extend their support to Yashwanth Sinha, the proposed candidate of the opposition parties.
Despite coming to a conclusion on supporting Yashwanth Sinha, there are a few issues among the opposition parties. The election episode shed light on the differences between the grand old Congress and Telangana Rashtra Samithi. However, the issues between the parties have a long history.
Yashwanth Sinha will come to the Telangana capital city Hyderabad to gather the support of the parties. The ruling TRS which wants to enter the national politics said it is ready to support Mr. Sinha. The party kept itself busy making big arrangements to welcome Yashwanth Sinha.
Amid this, the Telangana wing of the grand old Congress party kept itself away from the party and made it clear that it will not be present at the party. We are not ready to meet Mr. Sinha who is coming to the state to meet the Chief Minister, the Congress party said.
Hyderabad city will see two big political events tomorrow. While the BJP is all set to hold its two-day long meetings starting from tomorrow, Sinha will come to the capital city on the same day.
Trinamool Congress proposed Sinha as the Presidential candidate and urged the opposition parties to support him. Given the enmity the parties have with the saffron party BJP, they accepted the proposal and said that they will support Sinha during the Presidential polls.
The Presidential polls is being seen as related to the Lok Sabha polls. If the opposition parties can come to a common understanding, then the same can be expected during the Lok Sabha polls. However, it appears like the opposition parties are going to have a tough road.
The opposition parties want to fight the mighty Bharatiya Janata Party which is aiming to score a hat-trick in the upcoming Lok Sabha polls. However, the parties are killing the chances by themselves with the internal fights that they are having.