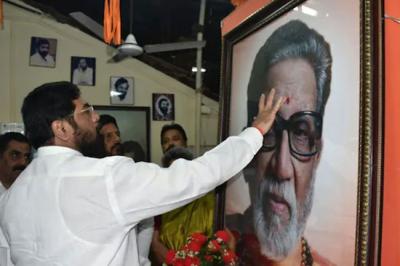 The political crisis that unfolded in Maharashtra ended up as a big loss for the mighty Shiv Sena as the party was ousted from the government, courtesy the rebel MLAs starting a big revolt against the party. With the MLAs turning rebels, the Maha Vikas Aghadi fell short before the magical figure and Uddhav Thackeray stepped down as the Chief Minister.
Shiv Sena's rebel Eknath Shinde took oath as the Chief Minister the other day and the ceremony was administered by the state governor Bhagat Singh Koshyari. While taking the oath, Shinde took the name of Shiv Sena patriarch Bal Thackeray.
With his oath-taking ceremony, Shinde made a big statement that he is taking forward the legacy of Bal Thackeray, who is known for following stringent Hindutva ideology. Even Bal Thackeray's son Uddhav did not take his name when he had sworn in as the Chief Minister of Maharashtra.
Strong Shiv Sena man Eknath Shinde revolted against the Shiv Sena party as he is not happy with the party moving out of its right-wing party. After moving out of Mumbai, he and his supporters openly said the change in the ideology did not go well.
Eknath Shinde who started his political career with Shiv Sena has a lot of respect for Bal Thackeray and he expressed the same during the oath-taking ceremony. The newly sworn-in Chief Minister of Maharashtra showed the world that he has Bal Thackeray in his heart and he is the true legacy career of him and his ideology.
Besides Bal Thackeray, Eknath Shinde also remembered another big Shiv Sena leader Anand Dighe, when he took oath as the Chief Minister. His supporters and a few Shiv Sainiks chanted their names too.
Shiv Sena's few decisions also acted against its big roots. The party which is known for batting for the Hindu beliefs made a big issue out of chanting Hanuman Chalisa and even banned it.
Independent Lok Sabha member Navneet Kaur Rana and her husband, an MLA were arrested when the MP gave a call that she will recite Hanuman Chalisa outside Uddhav Thackeray's residence who was the Chief Minister then.