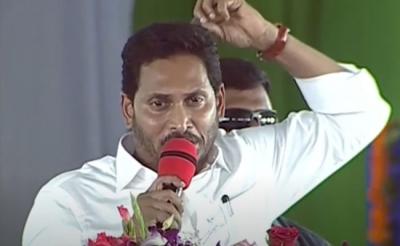 The combined Andhra Pradesh state saw an intense political rivalry between two big leaders Nara Chandrababu Naidu and Y. S. Rajasekhara Reddy. However, the rivalry between Nara and YSR families continued with YSR's son Jagan Mohan Reddy venturing into politics. After coming to power, Jagan launched an all-out attack against the Telugu Desam Party.
Not just Telugu Desam Party, Jagan, and his YSRCP are being critical of the section of media that is supporting the opposition party. The term yellow media which originated in America is being used to term the pro-Telugu Desam Party. On many occasions, Jagan openly attacked the media.
Going by his same stint, Andhra Pradesh Chief Minister YS Jagan Mohan Reddy who reached the Srikakulam district to release the funds for the third phase of the flagship Jagananna Amma Vodi scheme. Addressing the gathering, Jagan blasted the yellow media and alleged that the media is trying hard to spread fake news against the government despite the government benefitting the people.
Calling Chandrababu Naidu, Eenadu, Andhra Jyothi, and TV5 as Dusta Chatustayam, YS Jagan said that, he is fighting against them and he is having the support of people and no one can pluck his hair. He also targeted Janasena chief Pawan Kalyan by being the Datta Putrudu on the occasion.
It is an open secret that every party has a section of media that supports them. Just like Telugu Desam Party has Eenadu, Andhra Jyothi, and TV5, YSRCP also has outlets like Sakshi and others that support the party. Besides this, a few small media outlets also support Jagan's party.
On every possible occasion, the pro-Jagan media praises Jagan to the sky and slams the Telugu Desam Party. It has to be mentioned here that these media outlets played their role in strengthening the YSRCP at the root levels before the general elections in the divided Andhra Pradesh.
The only change in the 2014 and 2019 elections is the support Jagan has in the media circles. By working on it going by the instructions of political strategist Prashant Kishor, Jagan came to power. The pro-Jagan media target TDP and its leaders to date. However, despite all this, no one talks about blue media.