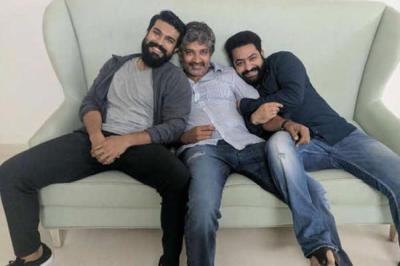 Without a doubt, sensational director SS Rajamouli aka Jakkanna took Tollywood to great heights with his magnum opus RRR. The stunning visuals and beautiful storytelling made even the western audiences fall in love with the film. RRR is enjoying applause from all the corners.
Keeping all this aside, RRR made us see the bonding between NTR and Ram Charan. Despite both families having professional rivalries, both stars share a good bonding and we got to see the same onscreen. Their friendship only increased after dedicating close to three years to RRR and working together.
Now it has been widely reported that people who share a good bonding with Charan and Tarak came up with a piece of advice that they should take forward the RRR legacy by taking the backing of SS Rajamouli.
As per the grapevine, Tarak and Charan were asked to have a thought on starting a business along with Rajamouli. An idea of starting an eatery was shared with the trio reportedly.
Looking at the practicality of the idea, it might not happen any time soon. Rajamouli is a person who doesn't get involved in all these things and all the money matters are taken care of by his wife Rama Rajamouli. He has already started working on the Mahesh Babu project and he won't shift his focus until the project hits the floor. After the film releases people will talk about Rajamouli and Mahesh Babu's film and RRR gets outdated like how Baahubali became old now.
Young Tiger NTR lined up a few films and will join the shoot very soon. He will first start working on Koratala Siva's project and later he joins Prashanth Neel's film. As both the films are Pan-India Tarak will not get free time if the shoot stars and also Tarak is not so much into these businesses. He has no other business except for doing films.
Moving to Ram Charan, he owns a few businesses like Polo Club and Aviation company. He is also busy with his films and he prefers playing with his pets in his free time. Will he dedicate the free time to the alleged RRR idea is a big question here. It is not just him spending time, he should also convince Tarak and Rajamouli which will be a hectic task. We might hear from them if something like that happens.