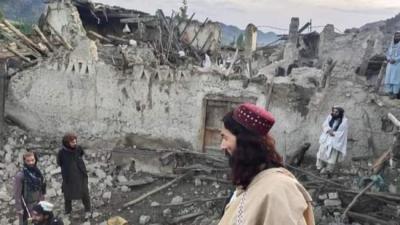 A massive earthquake hit Taliban-controlled Afghanistan earlier today and more than 900 people are believed to have died, the local media said. Talking about the scale of the earthquake, the media outlet also said that the possibility of the casualties going up cannot be ruled out.
As per the information shared by the state-run news agency, the impact of the earthquake was so severe that many buildings and structures collapsed and people were struck in the collapsed buildings. The rescue operation is underway and more details are awaited.
Reports say that the earthquake with a magnitude of 6.1 on the Richter scale was recorded which left Afghanistan and neighboring regions of Pakistan to see partial destruction of the buildings.
Earthquakes are not new to Afghanistan. Over the last decade, Afghanistan has been seeing earthquakes at regular intervals. There are a few faults including natural and man-made ones which increase the chances of getting earthquakes. Trying to extract water from underground more than the prescribed levels and building massive dams might also trigger an earthquake.
Afghanistan has a massive hydroelectric and irrigation dam project which was funded by India to take forward the friendship between both countries. The Salma Dam is also called the Afghan-India Friendship Dam. The faults increase the chances of getting an earthquake.