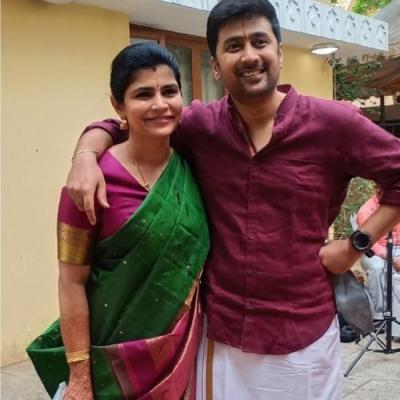 Having babies is a piece of happy news for couples and celebrities are not an exemption from this. Heroines announce the news with photoshoots highlighting their baby bumps. Actresses like Anushka Sharma, Kajal Aggarwal, Pranitha Subhash, and Namitha announced their pregnancies with a photoshoot and emotional notes.
Unlike others, singer-dubbing artist Chinmayi Sripada, known for her feminist ideology opted for secrecy and did not share her pregnancy news. Everyone got to know about her pregnancy when the couple announced that they were blessed with twins. The couple took to social media to share the happy news of welcoming the new ones.
Without any poet or mention about her pregnancy, Chinmayi directly shared the news of delivering twins. This made many doubt if the couple had opted for surrogacy. Chinmayi received many DMs asking if they went for surrogacy. The singer gave a big clarity on the alleged surrogacy.
In her post, Chinmayi said that they did not go for surrogacy but she did not reveal the news as she wanted to keep her privacy. She wondered why people think that they had gone for surrogacy just because she did not post on social media about her pregnancy.
Pregnancy is purely personal; some want to share the happy news with their followers and fans and some might not. While many stars and actresses took to social media to share the news, Chinmayi decided to keep the news with her and her circle.
"I'm absolutely loving these people who are DM-ing me asking if she had twins through a surrogate just because I didn't post photos of me being pregnant. Only those who were my innermost circle knew because I was protecting myself," Chinmayi said in her post.
Chinmayi issue is an example of how social media became a toxic place. Celebrities, mainly female actors, get objectionable comments under their posts. It appears like no matter what the profession is, netizens have their opinions and want others to follow.
Fighting for women and their rights is Chinmayi's nature and many don't like that. On social media and Facebook pages, she is often trolled. Looks like, even in her personal matters, people have their doubts.