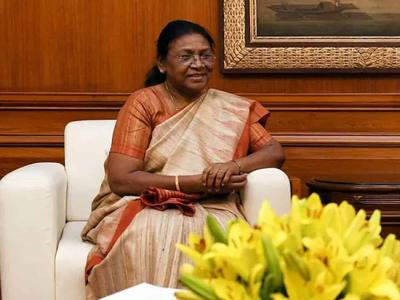 India got Independence from British rule in 1947 and it took three years for India to become a republic nation that follow the Constitution. In 1950 India became a Republic nation and since then people from Uooer Castes, minorities, and the Dalit community had the opportunity to serve as the President.
Now the BJP is aiming to do what the previous government could not do. After picking Ram Nath Kovind, who hails from the Dalit community as the President earlier, the saffron party is going for the scheduled tribe this time and a respectable person has been nominated for the post.
Odisha-based Draupadi Murmu, who hails from the ST community was selected as the presidential candidate by the BJP after a brainstorming session. Though a few names including Venkaiah Naidu popped up, BJP went for Draupadi Murmu after considering a lot of issues and parameters.
Talking about Draupadi Murmu's background, she was a teacher, and later she was drawn toward politics. She started her political career with a councilor post and later went to serve as an MLA and Cabinet Minister as well. She was made the Governor of Jharkhand state.
When the Bharatiya Janata Party formed an alliance with Biju Janata Dal in Odisha, she was made the Commerce and Transport Minister and Fisheries and Animal Resources Development. Her good work as MLA brought her the Nilkantha award which is given to the best MLA in Odisha.
Starting a new chapter in her career, Draupadi Murmu served as the Governor of Jharkhand. She not only became the first person to complete the tenure of five years as Governor of Jharkhand, but she also became the first person coming from the scheduled tribe to do so.
Draupadi Murmu was selected as the National Democratic Alliance's candidate for the Presidential polls. BJP wants to impress the ST community and wants to send a strong message that they pick candidates for such a big post based on their caliber and qualities and not their political background.
On the other hand, the opposition parties announced ex-IAS and BJP rebel Yashwant Sinha as the presidential candidate. While the opposition wants to checkmate BJP with its rebel, BJP brought ST candidate.