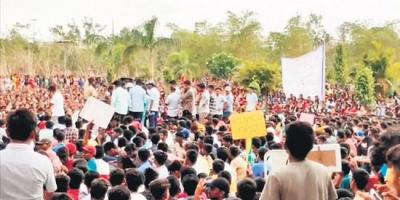 It is known that the students of IIIT Basara have been protesting demanding the address of their issues. But the recent Secunderabad violence episode overshadowed the protest as everyone was talking about the violent protests. The opposition parties started supporting the students and targeted the state government for batting a blind eye toward the students' issue.
On the other hand, the support for IIIT Basara students has been increasing because of the fact that they have been protesting calmly rather than vandalizing the properties and places. This made the state government act fastly on the issue.
The students of the Rajiv Gandhi University of Knowledge and Technologies (RGUKT), who have been sitting for protests for around one week have called off their protests. The issue ended up on a positive note with the government giving assurance to the students that their issues will be addressed at the earliest.
Telangana Education Minister P Sabita Indra Reddy played a big role in filling the gap between the students and the concerned authorities. After meeting the student council members and taking note of the issues they want to be addressed, Indra Reddy met the college authorities.
After attending both meetings, Sabita Indra Reddy gave clarity on the issue and after getting approval from the Chief Minister's office reportedly, the Education Minister assured the students that their issues will be addressed at the earliest. This made the students call off their protest and they will be attending the classes from today.
Facing the wrath of the students is not a good thing and no party wants to taste it. It appears like the ruling Telangana Rashtra Samithi(TRS) is also not an exemption to this. Addressing the issues will act as damage control and the government can also hit back at the opposition that they have addressed the issue.
Taking all these factors into consideration, the ruling party assured the students that their issues will be addressed and this made the students call off their protests and resume their classes.
Talking about the demands, the students don't have any over-the-top demands. All they want is a regular Vice-Chancellor and the improvement of the facilities like food and other amenities. They are neither costly nor hard to address. Experts say that genuine protest might have made the government look into the issues.