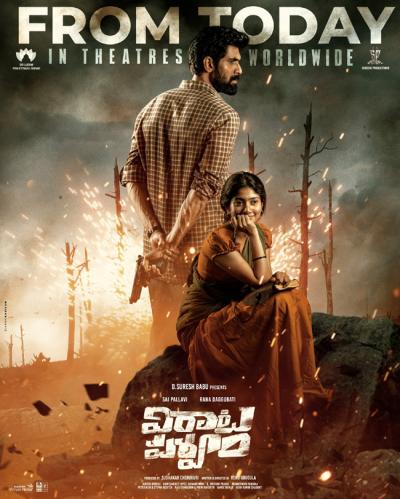 'Virata Parvam' Movie Review!
Cast: Rana Daggubati, Sai Pallavi, Priyamani, Nandita Das, Naveen Chandra, Rahul Ramakrishna, Nivetha Pethuraj, Zarina Wahab, Easwari Rao, Sai Chand, Jagadessh Prathap Bandari.
Music director: Suresh Bobbili
Cinematographer: Dani Sanchez-Lopez, Divakar Mani
Editor: A Sreekar Prasad
Producers: Suresh Babu, Sudhakar Cherukuri
Writer-Director: Venu Udugula
After a lot of postponements, 'Virata Parvam' featuring Sai Pallavi and Rana Daggubati in the lead has finally hit the screens. The trailers and songs have given a poetic feel to this movie. As it is known, the movie is an intense love story set in the backdrop of Naxalism. Directed by Venu Udugula, there are good expectations over this film and the aggressive promotions helped the movie a lot. With a big star cast and a serious plotline, let us see how the movie turned out to be.
Story:
Vennela (Sai Pallavi) is born in the 70s at the Warangal area where the Naxalites and Police fight was at its beak. While she was growing up, she learns about Ravanna (Rana Daggubati) who is a naxalite leader. His writings influence her a lot and she develops love towards her. She gets even more attracted when she saw him for the first time and decides to go after him. Ravanna believes that there is no place for love and marriage in his life which makes him to keep Vennela at a distance. But she doesn't back down and even joins his crew. What event does it lead to? What happens to Vennela now? Does her love turn victorious? All these questions will be answered in the film.
Analysis:
A lot of people in the film industry make films by keeping the commercial factors in mind. Will this movie be commercially viable? This is the question that comes to every filmmaker's mind when they come across a story. It is not wrong to think in that manner since film industry is a business at the end of the day. But only a few try to narrate a story without letting the commercial ingredients overshadow it. Such makers find it tough to get support. But Venu Udugula who made 'Needi Naadi Oke Katha' without letting the business world spoil his story has taken an even bigger risk with 'Virata Parvam'. He tried to bring out a part of history that is unheard by many. Though there were a few exaggerations at places, he needs to be appreciated for trying to tell a story honestly. He got a strong team to back him. The actors, technicians and producers have given their best which made 'Virata Parvam' a very special film in Telugu. For regular movie watchers, the movie may seem too serious without any fights, songs and entertaining scenes but 'Virata Parvam' is an honest attempt at narrating a true story as it is.
The trailer gave a clear idea on how the film is going to be. There are no commercial factors in it and the movie is going to be a hard-hitting love story set in the backdrop of Naxalism. The movie doesn't revolve around Naxalism as it is not a movie about a Naxalite leader but a story about a girl who loves a Naxalite leader. The movie shed light on the journey of an innocent girl who gets inspired the writings of a Naxalite leader, falls in love with him and tries to stay with him no matter the consequences. The movie has been named 'Virata Parvam' and Venu Udugula tried to connect to the story of Pandavas but there is no match at all. We feel that the title is in no way related to the story. This flick completely revolves around the character of Sai Pallavi and whether you like the movie or not depends on how much you get connected with her acting and character. While Venu did his best with the character of 'Vennela', Sai Pallavi took it to another level with her brilliant performance.
The main problem with 'Virata Parvam' is predictability. The story, characters and proceedings run as per the expectation of the viewer. As we know how the fight between Naxalites and the Police take place in movies, 'Virata Parvam' look a bit monotonous at times. But the director gave a fresh touch by narrating the film from Vennela's side. While the starting stages of her love story do not generate any emotion, it is Sai Pallavi's strong performance and well-written scenes after a point that makes you connect with the character. The director narrated the film in a rapid and interesting manner till Vennela meets Ravanna in the flesh. Despite not being seen quite often, the character of Ravanna gets a lot of elevation. The action episode which arrives when Vennela and Ravanna meet for the first time was beautifully picturized. The movie runs on a gripping note till then and engages the audience.
But 'Virata Parvam' troubles you in the second half. With the curiosity dying down about the meeting of hero and heroine after the first half, the director found it difficult to drive the story forward. Though the conflict point of whether a Naxalite leader who keeps his mom away for doing what he believes in, has it in him to love a girl is quite good, it is not showcased quite well. The inner conflicts of the Naxalite gang are quite regular and don't stand out. While the scene between Vennela and his father showcases the caliber of the director, it is just limited to that scene in the entire second half. Taking a stand and narrating the story from a Naxalite point of view also made the film quite flat. There may be a few objects regarding this too. Though the director took a few liberties till then, he decided to go for a realistic climax and it is tough for the audience to digest. It is also not that convincing. Though it is a real story, a few emotions should have been added during the end portions which might have helped the film. But 'Virata Parvam' is an honest attempt and it is a good choice for people who love hard-hitting stories.
Performances:
The female lead's name comes up before the hero's name at the start. This explains the importance Sai Pallavi has and the talented actress owned the character. Her brilliance is on full display and the way she emoted during the close-up shots deserves a lot of applause. She is just one of a kind and it is tough to imagine anyone in this role other than Sai Pallavi. This is one of the best roles she has ever done in her career. 
Rana deserves a lot of appreciation to reduce himself and giving the first priority to the story. He acted with a lot of maturity. Though he was a bit dull at times, his acting was on point. Nanditha Das showcased her range in a brief role. Priyamani and Naveen Chandra did a very good job. Sai Chand is perfect and the rest of the cast did complete justice to their roles.
Technicians:
The movie is rich in terms of technical standards. Every technician worked according to the director's style. Suresh Bobbili's music is quite touching and his background score works well too. The cinematography is excellent and their work deserves a lot of awards. The production values are top-notch and they should be appreciated for backing such a story. Director Venu Udugula narrated a story that he wanted to tell the audience without any commercial factors. While some may differ with his ideology, his daring attitude impresses you. The movie can be watched for its honesty and good first half.
Verdict: Virata Parvam - A Heavy Love Story
Rating: 2.75/5