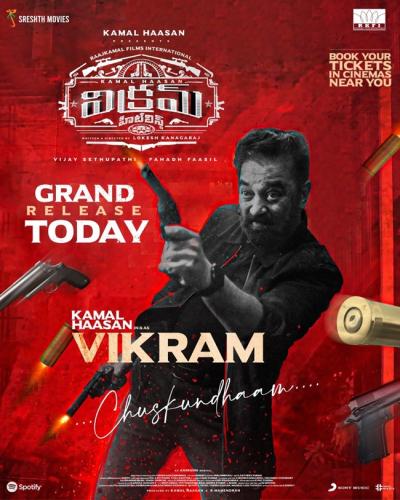 'Vikram' Movie Review
Cast: Kamal Hassan, Vijay Sethupathi, Fahadh Faasil, Suriya (Cameo), Narain, Kalidas Jayaram, Chemban Vinod, Arjun Das, Shivani Narayanan and others
Music: Anirudh
Cinematography: Girish Gangadharan
Editor: Philomin Raj
Producers: Kamal Hassan and Mahendran
Writer-Director: Lokesh Kanagaraj
Kamal Hassan is one of the most versatile and talented actors that Indian cinema has ever seen. He is a walking library of acting and there is no replacement for such an artist. But he reduced the number of films he does to a huge extent. Over the past decade or so, he did not even do a handful of films. But he teamed up with Lokesh Kanagaraj who is considered as one of the best in Kollywood and it raised the expectations enormously. Bringing in big names like Fahadh Faasil and Vijay Sethupathi onboard made the film even bigger. Amidst all the humongous hype, the team has finally released 'Vikram' in theatres. Let us dive into the review straight away!
Story:
Police officer Prabhanjan (Kalidas Jayaram) catches 2 lakh crores worth of Cocaine raw material from the drug syndicate and hides it. Santhanam (Vijay Sethupathi) who runs the syndicate is in search of his material. Even police department are in search of it. In the meanwhile, a masked gang kills Prabhanjan. Even his father Karnan (Kamal Hassan) gets killed in the hands of the masked gang. Secret Agent Amar (Fahdh Fasil) is appointed to solve this case. He and his team are in search of those masked gang people. In this process, they get to know about Karnan which shocks them. Who is he? What is his background? Who are behind these masks? Why are they killing people? What did Amar find out about Santhanam in this process? What happened to those drugs? 'Vikram' should be watched in theatres to get the answers to these questions.
Analysis:
There is no need to explain about Kamal Hassan's action prowess or the versatile roles he played throughout his career. We will not find such an actor in the entire Indian film industry. But after a stage, even the directors were not able to reach his level of thinking and he himself become distant from the sensibilities of the current generation audience. He failed to even make his fans happy in recent times. Though it was exciting when we first heard about the combination of Kamal and Lokesh who made 'Khaidi', his last outing 'Master' raised a lot of doubts. He tried to compensate for the mass image of Vijay and turned that film into a hotchpotch masala film which never reached the place it aspired to be. But he did not make the same mistake for 'Vikram'. He followed his own style and Kamal is not a star who needs to cater to his fanbase all the time and that helped a lot. He even utilized Vijay Sethupathi and Fahadh Fasil in the right way and made 'Vikram' as a thriller ride for the audience.
Lokesh Kanagaraj is a unique filmmaker. His movies are interlinked with each other. They have drugs, guns, biryani, cars, vans, gangsters and main characters who attack each other all the time. The lead character always has a connection with children and most of the film happens in night. It is a completely separate world and 'Vikram' is no exception. With Kamal as the lead, Lokesh never had to fear about the hero's image and did not give unnecessary build-ups to the hero character. The film runs in the manner of 'Khaidi' and the way he wrote Kamal Hassan's character which is very unique to what people expect is where 'Vikram' scores its major points. The audience get a curiosity right from the first scene where it is shown that the hero's character is killed. The director penned a story with multiple layers and narrated in a non-linear manner which worked out pretty well for 'Vikram'. People who expect newness from movies will surely enjoy this action flick.
In the entire first half, Kamal appears for a very short period. He is not shown at all in the current timeline. He comes and goes in flashbacks throughout the first half. But his character gets elevated a lot with the dialogues of other characters. During this course, it is Vijay Sethupathi and Fahadh Faasil who makes the film very interesting to watch. Especially Sethupathi impresses a lot with his unique mannerisms and acting. The misleading of the audience in the first half regarding Kamal's character and the twist during the interval episode stands as the biggest highlight of the film. It is during the interval that Kamal gets introduced and the entire first half runs on a pacy note without even a single moment of boredom. The second half is not on the same level as first half which turns out to be a disappointment. The second half completely revolves around the mystery in Kamal's character, his goal and his story.
As it is tough to showcase Kamal Hassan as a youngster at this age, they used the footage of the old 'Vikram' movie and completed the flashback. The audience needs to feel the emotion of the hero and see his pain. It is what helps them connect with his character. But the entire flashback is explained through old footage and dialogues which is why the emotion did not get carried. Lokesh never tried to establish the bond between the hero and his son. But he managed to bring some feel through the scenes between the hero and his grandson. 'Vikram' would have turned into a disappointment if not for these emotional scenes. But the action part during the second half is a whole new experience. In the last 80 minutes, over an hour is spent on chasings, gun firings and fights. In a mostly classy and subtle film, it is the action part that keeps the masses entertained. There are a lot of hero elevations during these portions and the action sequences working out pretty well with the help of Anirudh's terrific background score, the second half turns into an action ride. The lack of emotion is a minus and Lokesh took a lot of time to conclude the film after the climax fight which tests the audiences' patience too. He hinted at 'Vikram - 2' by introducing Suriya as the main villain which is quite exciting. People who like Lokesh mark films will certainly enjoy it while others may get slightly disappointed with the second half.
Performances:
Kamal Hassan did a lot of extraordinary roles in his career. Compared to them, this character in 'Vikram' might not be a special one but it is one of his best in recent times. Fans will surely have a blast watching him in this role. People will get thrilled to see Kamal in such an out-and-out action role. His screen presence and the way he emotes in certain scenes explain his level as an actor. He is in a league of his own. But stunt doubles have been used a lot in this film due to his age. Also, the shivering in his voice because of his age is affecting his role.
After a few disappointing outings, Vijay Sethupathi is at his best once again. He excelled as Santhanam and his mannerisms are also quite unique. Fahadh Faasil did very well but we expect more from his character as it becomes quite dull in the second half. Chemban, Narain and others did a fantastic job and Suriya made the audience go crazy in theatres with his cameo.
Technicians:
Anirudh deserves major credit for the film's success. He gave his best and took the film to another level with his music. He is the most in-form composer in the entire country right now and keeps on delivering irrespective of the film's result. The stylish BGM's for 'Vikram' are phenomenal and every bit of music he gave for this film is fantastic. Girish Gangadharan's visuals are equally good too. He gave what Lokesh Kanagaraj wanted. The production values are top-notch, to say the least.
Lokesh Kanagaraj is back on track after 'Master'. He made a film with his mark written all over it. 'Vikram' cannot be compared to 'Khaidi' but he delivered what every Kamal fan wanted. His presentation deserves a lot of credit though a few dragging scenes and a lack of emotional content are the film's only minutes.
Verdict:
'Vikram' - High On Action & Style, Low on Emotion
Rating: 2.75/5