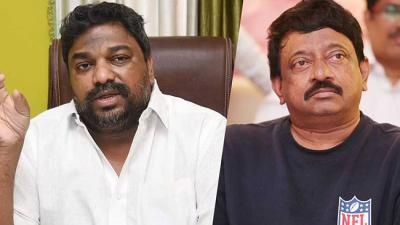 Sensational director Ram Gopal Varma and outspoken producer Natti Kumar are locking horns against each other. Their fight turned intense with Nnati Kumar getting a stay order against Ram Gopal Varma's Dangerous film stopping it from having a release. Natti alleged that RGV owes him money and he won't let the film to release unless the issues are cleared.
Amid this, Ram Gopal Varma moved the Panjagutta Police against Natti Kumar's children accusing them of forging his signature. Accompanied by his lawyer, Ram Gopal Varma visited the Panjagutta Police Station earlier today and filed his complaint. According to RGV, he also submitted a few proofs.
As if the current developments are not enough, the issue was a big development with Producer Natti Kumar responding to the case filed by Ram Gopal Varma. He alleged that Ram Gopal Varma is a 420 and many people got cheated by him and he will not spare him.
Coming down severely on Ram Gopal Varma, Natti Kumar said that Ram Gopal Varma purposefully dragged his children when they had nothing to do with the issue. The case is pending with the court, so why did RGV file the case? I will not leave RGV unless he gives me the balance money, Natti Kumar said.
Since the issue popped up, Ram Gopal Varma and Natti Kumar have been saying that they are right about the issue and that the other party is acting with vested interests and creating issues out of nothing. Natti Kumar's comments say that the duo has the same stand.