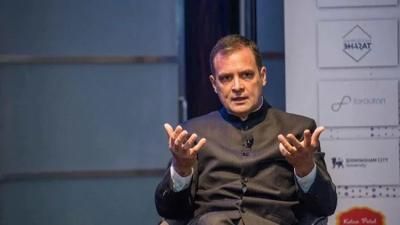 Gandhi family scion Rahul Gandhi is currently on a foreign joint. Sitting in London, he is giving interview after interview to the foreign media. He has also been attending a slew of panel discussions, debates and other programmes.  Nothing wrong with image-building exercises, but Rahul is actually ending up damaging his prospects by his utterances.
In one of the interviews, he said that democracy in India is worse than that of Pakistan.  His has now become controversial with the people taking to social media to give him a reality check. Comparison of Indian democracy with Pakistan's has become a source of derision. Many people are asking as to how he is able to criticise the Modi government if there was no democracy in India. They are also asking him questions about the situation in Pakistan.
The BJP is raising questions as to whether he had obtained permission from the government to undertake a foreign tour. The Congress is ridiculing the comments and is claiming that as an MP, Rahul Gandhi is not answerable to the ruling party and that he is answerable only to the people of the country.  But, one thing is clear. The leaders like Vajpayee, Advani and others had never criticised the Indian government on a foreign soil. Rahul Gandhi seems to have forgotten these time-tested conventions.
Perceptive analysts say that Rahul Gandhi forgot those time-tested and has attacked the government on a foreign soil. The people are recalling how Atal Bihari Vajpayee extended unstinted and total support to Indira Gandhi during the 1971 war. Similarly, Vajpayee led an Indian government delegation to the UN on the human rights issue in Kashmir. Many suggest that Rahul Gandhi too should follow these conventions.