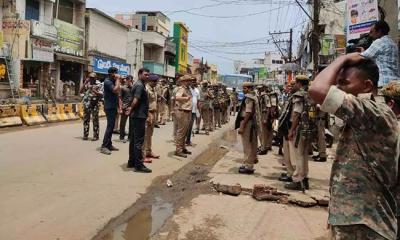 The Konaseema police have so far identified as many as 150 arsonists in connection with the recent violence in Amalapuram over the renaming of the district. Those who opposed the renaming of the district after Babasaheb Ambedkar turned violent, torched homes and buses and resorted to arson. The police are identifying the culprits based on the CCTV footage.
Shockingly, a large number of those arrested are from the YSRCP. A couple of the TDP and the BJP activists were also identified. On May 26 itself, as many as 19 persons were arrested for their role in the widespread arson. On May 27, another 24 persons were taken into custody. The police say that few more would be arrested on Saturday and Sunday.
The police examined the footage from over 350 CCTVs. They are also scouring through the whatsapp groups of the arrested persons and are trying to identify the culprits. Several experts from the Police Technology Services and the Cyber Crime wings are camping in Amalapuram to examine the footage and the messages. It now emerges that a leader, considered to be the top-notch functionary of a community, was behind the whole arson. Some rowdy sheeters too have been identified.
The police are of the opinion that though the incident flared up in Amalapuram, the instructions for violence came from another town. Some people sitting far away were reportedly involved in fomenting the trouble.  As many as 12 groups were involved in the investigations. Sources said that 200 more people involved in the arson also need to be identified.