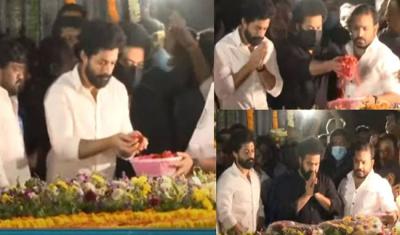 May 28th has a big significance and Telugu people will not forget the date as today marks the birth anniversary of legendary actor Nandamuri Taraka Rama Rao. Today is his 100th birthday and the Telugu Desam Party leaders and cadre are celebrating Mahanadu with full josh.
On the big day, everyone is paying tributes to the legendary actor and former Chief Minister. Following the procedure, as they do every year, the family members of NTR made their way to the NTR ghat in Hyderabad and paid their rich tributes. The pictures of visuals of family members reaching NTR Ghat are all over the social media.
Nandamuri scions Young Tiger NTR and Kalyan Ram visited the NTR Ghat during the early hours and paid their tributes. Appearing in casual wear, the brothers remembered their grandfather on his birth anniversary and paid tributes. On social media too they remembered NTR.
Given the special occasion of the 100th birthday of NTR, traffic diversions came in place as precautionary measures. The NTR Ghat and Talk bund area were decorated with flowers. In the morning itself, the brothers paid their tributes.
Both NTR and Kalyan Ram have high respect and affection towards their grandfather NTR. Young Tiger NTR was fortunate enough to share the name with Sr NTR. After meeting Tarak during his younger days, Sr NTR said Tarak will be called NTR from now on. With Tarak's face resembling NTR, many feel that Tarak will reach greater heights like Anna Garu did.
In his earlier days, Young Tiger NTR used to have references of his family and late NTR. Starting with Aadi, the same continued. In Simhadri, his introduction shot was with a massive cut out of Anna Garu in Lord Krishna attire. The scene is designed in a way that Anna Garu blessed Tarak to beat the baddies.
Nandamuri Kalyan Ram showed his devotion to his grandfather by naming his production house after the legendary actor. In 2005, Kalyan Ram started his production house N. T. R. Arts with Athanokkade film. He tasted big success with the film and he is still producing films on this banner. NTR's upcoming films are bankrolled by Kalyan Ram.