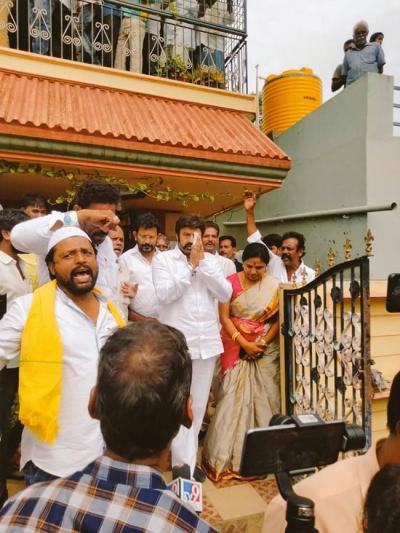 Nandamuri Balakrishna is not just a popular hero. He is also a legislator. As a Telugu Desam Party legislator, he is representing the Hindupur constituency, which was earlier represented by his late father Nandamuri Taraka Rama Rao, who floated the Telugu Desam Party.
As an MLA, Nandamuri Balakrishna made a strong statement that he will stand with the party workers and activists no matter how hard the ruling party tries to create issues for them. After meeting the party workers, Balakrishna assured them that he and the party will stand with them.
It is known that Nandamuri Balakrishna is touring the newly formed Sri Sathya Sai district. As part of this, Balakrishna made arrangements to meet the TDP activists who were injured in a tussle reported at a temple carnival. However, the cops shocked the MLA by saying that extra vehicles cannot be allowed to enter the place.
After an intense argument, the cops deployed at the place informed the MLA that only three vehicles can be allowed so that no tense situations hit the place. With no option left, the Actor-MLA met the activists with three vehicles.
During the interaction with the party activists, the Hindupur MLA gave an assurance that he will not spare anyone who will trouble the party workers. Taking a note of the plight faced by the workers, Nandamuri Balakrishna said that irrespective of the time, he will be there for the workers when they need him.