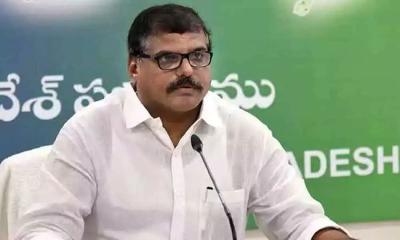 The Annual two-day political event Mahandu is big and crucial as far as the Telugu Desam Party is concerned. Massive arrangements will be held for the event and the party leaders and cadre will take an active part in the celebrations. The ongoing Mahanadu is even special for TDP.
When the opposition Telugu Desam Party was celebrating the Mahanadu event, Andhra Pradesh Education Minister Botsa Satyanarayana made controversial comments against Telugu Desam Party chief Nara Chandrababu Naidu.
Attacking Chandrababu Naidu on the backstabbing row, Botsa asked how can Chandrababu Naidu celebrate Mahanadu by taking the party from his father-in-law NTR. What right does he stand to celebrate the event after taking the party from NTR, he asked.
Reacting to the same, many are asking what credibility Botsa has to comment on Chandrababu Naidu who served as the Chief Minister. They are asking Botsa to go back and look at his history before commenting on others.
If we look at Botsa, the credit for his political success goes to the Grand old Congress party. He was encouraged and nurtured at the party. Under the leadership of YSR, he was given many chances and due to this, he held various positions.
When he was in the Congress party, he constantly attacked YS Jagan, who was a Congress MP. Later, he left the party and joined the YSRCP. He shifted his loyalty to YSRCP just for his political benefits and nothing more than that. How can Botsa comment on Chandrababu, when he himself left Congress for his political future.