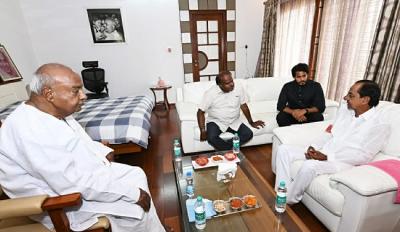 Compared to 2014, the reputation Prime Minister Narendra Modi and the BJP enjoys changed a lot. After two terms, the saffron party is facing a lot of criticism for various controversial decisions. The way the Union government handled the Covid brought severe criticism outside India as well.
Despite all this, the BJP is continuing its winning streak with a lack of strong opposition and leader. The grand old Congress is not able to compete with BJP. With no strong opposition, the BJP is enjoying a good performance in the elections. Congress could not even gather support from various corners given the issues it has with other parties
Seeing that BJP is having severe criticism, Telangana CM KCR has brought his Central politics dream out and is seriously working on it. He is meeting like-minded leaders and seeking their support. At the meeting, CM KCR is saying that change is required and the nation wants it.
Earlier today, he reached Karnataka and met former Prime Minister HD Deve Gowda and his son, HD Kumaraswamy, former Chief Minister of Karnataka. Though there is no information on what the trio discussed, KCR said that something big will come in two to three months.
If KCR can manage to bring all the opposition parties and like-minded leaders under one roof then it is going to be not that tough to take on BJP. But that needs a good number of seats. Telangana has hardly less than 25 seats in Parliament. Though he might not bring an alternative force, he can be a deciding factor if things go his way.