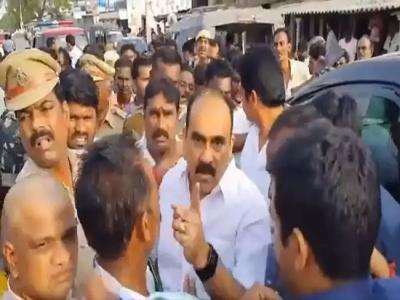 Politicians are expected to show some decency and behave properly with the people. Contrary to this, many leaders show their anger toward people. There will be a change in leaders' behavior before and after the elections. During the campaign, the politicians try to be as cool as possible.
But when people try to meet the leaders and seek help, the leaders turn violent. Proving this one more time, former Minister Balineni Srinivas Reddy vented out his anger against a woman who listed the problems she has been facing.
It is known that the house-to-house campaign Gadapa Gadapaku Mana Prabhutvam is underway in the state and the legislators are touring the places that come under their constituency. As a disturbing development, the YSRCP leaders are facing flack from the locals when they meet the public.
On various issues they have been facing, the locals are questioning the leaders who come to their doorstep for the campaign. It was the turn of former Cabinet Minister Balineni Srinivas Reddy to face the heat. A woman alleged that the farmers are being cheated as they are not getting a good price for their crops.
Not happy with this, the Ex-Minister alleged that a few forces are behind this and he will not spare anyone. Not just that, he sussed unparliamentary language replying to the woman. Everyone including the party leaders was stunned looking at the ex-Minister's behavior.