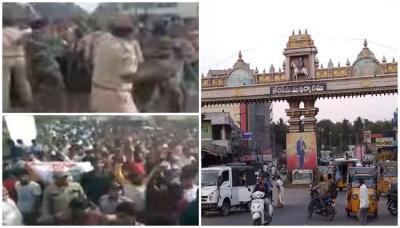 It is known that the Andhra Pradesh government had recently named the Konaseema district after BR Ambedkar. However, this did not go well with many as a few organizations and bodies opposed the proposal warning of protests. Seeing this, a curfew was imposed in a few areas as a precautionary measure.
As an unpleasant development, Amalapuram town saw a tense situation with a violent protest opposing the new demand. A few groups marched towards the District Collectorate and reportedly seized it as part of the protests. Cops reached the spot to bring the situation under control.
However, the efforts of cops to maintain peace in the region did not pay off with the angry protestors batting a blind eye toward the cops. Things escalated quickly when the protestors started attacking the cops making a few personnel sustain injuries.
With things going out of their hand, the cops used lathi-charge to bring the situation under control. A few protestors were taken into custody and the investigation is underway. Property loss was also claimed with the protestors damaging a bus.
Looking at the reason that triggered the protests, many people and organizations like Konaseema Parirakshana Samithi, Konaseema Sadhana Samiti, and Konaseema Udyama Samiti are not happy with the proposal of naming Konaseema after Ambedkar. Demanding that Konaseema's name should not be dropped, they planned the protests.