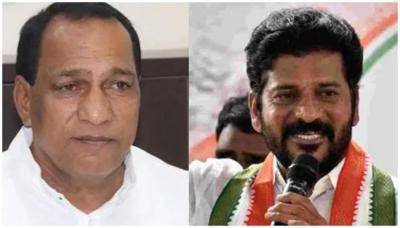 Politics is an unpredictable game, to a level that even members from the same community and same party might turn into enemies and target each other on various occasions. Revanth Reddy and Malla Reddy's tussle is a classic example of this. The duo has been locking horns with each other for some time.
Both Reddys are against each other,and they won't leave any stone unturned to target each other on every possible issue. Revanth Reddy's recent comments added fuel to the confrontation between the two leaders.
Revanth Reddy reportedly said that Reddy leaders have better skills than others as far as governance is concerned. His critic Malla Reddy used this opportunity to breathe fire on him. The Telangana Cabinet Minister lashed out at Revanth Reddy.
Malla Reddy blasted Revanth Reddy saying that he is a big blackmailer and he could even blackmail Rahul Gandhi as well. Recalling his stint with the Telugu Desam Party, Malla Reddy said that the issue has been going on and Revanth Reddy used to trouble him since then. He alleged that Revanth Reddy's daughter's marriage was done with his money
Hitting back at Revanth Reddy's allegations that he built his colleges on the encroached lands, Malla Reddy said that there is no wrong on his side and he is ready to take oath at the Yadadri temple and dared Revant Reddy to do the same. Looks like the issue will not be sorted out soon.