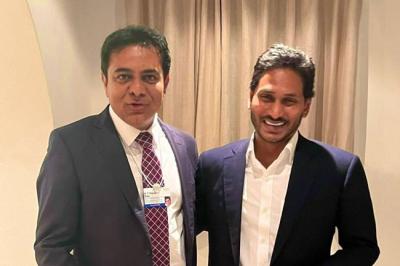 The ongoing World Economic Forum (WEF) at Davos is getting a wide range of attention from the political circles to see what the states can do in getting investments. Given the big stage, it is a golden chance for the states to attract investments by offering facilities to the companies.
Telangana IT Minister KTR left for the WEF with a lot of hopes of bringing good investments. The hopes did not go wrong with two companies showing interest to invest in Telangana. Combined, the two companies will invest more than Rs 600 crores in a phased manner. Lulu Group and Spain's Chemo Pharma will come to Telangana.
Now the focus got shifted to Andhra Pradesh to see what Chief Minister YS Jagan Mohan Reddy has to offer. He met a few big personalities including India's richest man Gautam Adani.
While the pro-YSRCP media is saying that a few companies have already shown interest in coming to Andhra Pradesh to make investments, a formal announcement is awaited. We cannot believe the news until the announcement comes.
On the other hand, investments are very crucial to Andhra Pradesh compared to Telangana. Telangana is already developed and the IT Sector is booming there with big investments coming. But the situation is not that good in Andhra Pradesh.