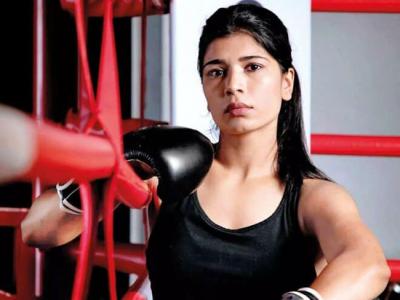 In the recent past, India did not see a bigger controversy or boiling point as it did with the Hijab issue. Despite the issue popping up in Karnataka, it got spread to other states as well. To stand in solidarity with the Muslim students' protests were held at various places. The issue even reached the Karnataka High Court and Supreme Court as well.
Tension gripped many parts of India with the Hijab controversy. Following the issue, many Hindu groups joined the row and gave a call to boycott Muslim vendors and not buy fruits from there. Muslim vendors were reportedly asked to not run shops near the temples.
So far many people across the fields have expressed their views on the issue and the current sensation Nikhat Zareen joined the list. Boxing world champion Nikhat Zareen said that wearing HIjab is a personal thing and one has to take a call on this.
When asked about her take on the Hijab issue, the Boxing champion said that she and her family has no issues with Hijab like clothes. Nikhat also said that she will not take people's opinions seriously as neither she nor her family has issues with the dress.
Adding further, the boxer said that, if the girls want to follow their religion and wear hijab, it is their option and she cannot say anything about this. Her comments raised doubt if she indirectly hit at the government for stepping in the Muslim students' way.
If we look at the issue, the controversy erupted when the Muslim students were asked to not wear their Hijab to educational institutions. Asking the students to follow the uniform dress code, the students were directed by the concerned authorities to not wear hijab.
The Muslim students started protesting in Karnataka to fight for their rights. The culture spread to other areas as well. Even a few protests were staged in Hyderabad as well to stand in solidarity with the Muslim students fighting for their rights. The likes of Hyderabad MP Owaisi urged everyone to not politicize the issue and not hinder their rights.