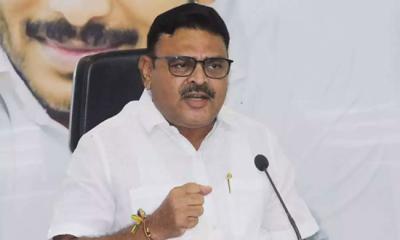 AP Irrigation Minister Ambati Rambabu has courted the ire of Junior NTR fans. The minister, known for his theatrical press meets and strong attacks on rivals, has now landed in a spot of bother over his comments on actor NTR. In a recent press meet, he had said that no one can defeat YS Jagan. He said neither Chandrababu nor Lokesh nor even Junior NTR will be able to defeat YS Jagan Mohan Reddy.
While both Lokesh and Chandrababu took this in their stride, the fans of Junior NTR did not take it lying down. They began attacking Ambati Rambabu. They are now trending a hashtag - #JaganShouldApologizeJrNTR - on social media. They are now attacking Ambati Rambabu in the most virulent manner possible.  They say that Ambati Rambabu was attacking Junior NTR for cheap popularity.
Junior NTR fans are uploading the audio of the sleazy conversation that Ambati Rambabu allegedly had with a woman on social media. They are also trying to make it go viral on the social media. They are claiming that they would teach a lesson to Ambati Rambabu for choosing to attack Junior NTR.
Meanwhile, the YSRCP workers have also entered into a wordy duel with the NTR fans in Tenali, when the municipal vice-chairperson strongly objected to the erecting of banners and posters of NTR in his street. He ordered the municipal staff to remove them. This led to heated argument between the YSRCP activists and the NTR fans.