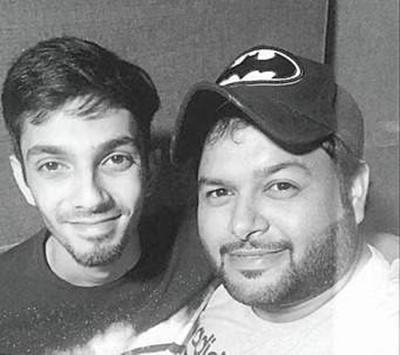 Star music composer Thaman is undoubtedly the number one in Tollywood right now. He is in amazing form at the moment and everything he touches is turning into gold. He is giving successful blockbuster albums and is working on huge projects like Shankar-Ram Charan film, Balayya-Gopichand film, Mahesh-Trivikram project, 'Godfather', 'Thank You', 'Agent', 'Thalapathy66', SK-Anudeep's film and others.
Following Anirudh's style of special videos for songs before the release, Thaman started making such versions from 'Ala Vaikunthapuramlo' and they feature himself, his band and the singers. He did this for many films including the recent 'Sarkaru Vaari Paata' but many feel that things are getting a bit out of hand. While Anirudh selectively did special videos, Thaman is coming up with such special songs in every film.
Also, Thaman is trying his best to give competition to Anirudh in the background score department as per experts. As we can see, he is stressing more on BGMs nowadays. Anirudh is known for his background scores and there are many movies that turned into hits due to his thumping scores and songs. Many analysts feel that Thaman is trying to copy Anirudh's style of music and his strategies. However, the audience feel that Anirudh is a bundle of talent who is delivering one hit after another. Irrespective of the movie's result, his work is getting appreciated a lot. But Thaman is often getting trolled for copying others' work. Experts claim that Thaman needs to find his own style instead of following others. We need to wait and see if it is true or not.