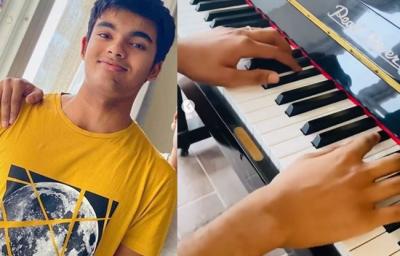 Powerstar Pawan Kalyan's loving son Akira Nandan has celebrated his 18th birthday in April and wishes poured on him from all corners. Fans are already expecting him to make his silver screen debut in the next couple of years. But his mother Renu Desai made it clear that he is focused on his studies right now.
She uploads videos and clicks of Akira regularly and they go viral instantly. Recently, a video of Akira showing off his piano skills is doing rounds on the internet. Going by this clip, he is playing it quite well and definitely has the required magic in his fingers.
But what makes it even more special is the fact that he played superstar Mahesh Babu's song on the piano. He perfectly played the chartbuster Kalaavathi song and netizens are mightily impressed by it. We all know how Mahesh and Pawan fans often wage wars on each other in social media. But Pawan's son playing a Mahesh song has made both sets of fans very happy. Take a look at this clip and see Akira's piano skills on full display.
There is rumour that he will be seen in a special role in Pawan's upcoming film 'Hari Hara Veera Mallu' but nothing has been made official.