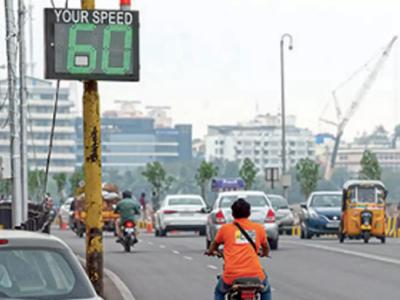 Speed Guns are the technology that helps the cops in fining the commuters who drive their vehicles at higher speeds than the limit. Though the technology was first started in the Western countries, many Indian cities started using them. The Telangana capital city is among those cities.
After the state was bifurcated, the guns were set up at various busy locations across the three Commissionerates. Doing justice to their roles, the radars have helped the cops in fining the violators. In these eight years, more than Rs 700 crores worth of fines were imposed.
The RTI query filed by a law student revealed the details which say that as of now, as much as Rs 791 crores worth of fines were levied against the speed violators. No less than 26 radar speed guns were set up in multiple locations in the state.
As a crackdown on the fines imposed, Hyderabad tops the list with a fine of Rs 499 crores, followed by Cyberabad Commissionerate and Rachakonda Commissionerate with fines of Rs 234 crores and Rs 58 crores respectively.
A law graduate who hails from the Kamareddy wanted to know the details of how the speed gun technology works and where the guns were set up and fines worth how much has been fined so far. With all these issues triggering him, he filed the RTI query.