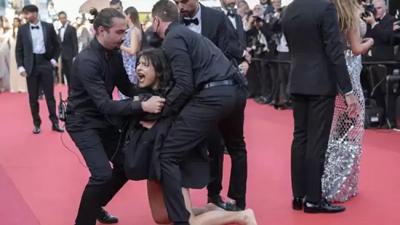 The Cannes Film Festival is the biggest platform that brings talent and films from various nations across the globe. Actresses feel it is a big honor to walk on the red carpet at the festival. This time, a few Indian celebrities were invited to represent India on the global stage.
Unlike every time, the Cannes Film Festival became the platform for protesting as a woman showed up from nowhere and tried to protest against Russia on the ongoing war. She went topless during the brief protest. After reaching the spot, she removed her top and showed her upper body which has "Stop Raping Us" printing. Along with that, she also got the Ukraine flag painted on her body.
She raised the slogan stop raping up after reaching the post where the guests were walking on the red carpet. Seeing this, the guards caught her and took her away. Her protest caught everyone's attention.
It has to be mentioned here that the Russia-Ukraine war has been going on without any break. The Ukrainian forces and women are alleging that the Russian forces are raping them after stepping on their land.
Earlier, a popular media outlet carried out a story saying that the Russian soldiers are sending flirty messages to Ukraine women, and the Russian soldiers were reportedly allowed to rape Ukrainian women by their wives.