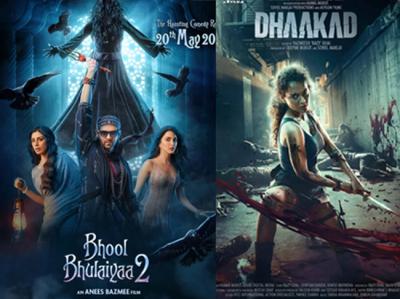 The Hindi film industry is at its lowest point in the past four decades. It was the face of Indian cinema for a long time but South Indian films are coming up with fresh and innovative scripts most of the time along with larger-than-life films that are pushing the boundaries. They are getting universal applause while Bollywood films are unable to connect with the viewers for some reason.
Barring 'Gangubai Khatiwadi', none of the films in recent times have succeeded at the box office. Films of big heroes and medium-level heroes are unable to get minimum collections. Ranveer Singh who is supposed to be the craziest star hero in Bollywood at the moment has faced two flops like '83' and 'Jayeeshbhai Jordaar' in the past four months.
None of their films are working out and there isn't enough buzz on Akshay Kumar's upcoming period drama 'Prithviraj' too. But this Friday witnessed good openings for both films 'Bhool Bhulaiyaa 2' and 'Dhaakad'. As we know, 'Bhool Bhulaiyaa 2' features handsome young hero Karthik Aryan and glamorous beauty Kiara Advani in the lead while Tabu played a key role. On the other hand, Kangana Ranaut is the lead in spy thriller 'Dhaakad'. Reports suggest that Karthik Aryan's film got good openings in urban areas and towns while Kangana's hit glamour dose ensure good collections in masses.
Despite getting good openings for both films, the critics have divided into two groups which shed a light on the ongoing problem in Bollywood. 'Bhool Bhulaiyaa 2' was given 4 stars by a few critics. They praised every aspect of this horror-comedy starting from Karthik's energetic acting to Tabu's brilliance along with Aneez Bazmee's direction. The same critics gave a single star to Kangana's 'Dhaakad' and bashed the film left right and center.
There is an other section of reviewers who gave 4 stars to 'Dhaakad' and showered praises on Kangana's strong performance, slick action sequences and racy narration. They gave less than 2.5 stars for Karthik Aryan's horror-comedy and slated it as an outdated film. At the time when Bollywood is craving for success, the reviewers got split into two due to bias instead of supporting the two films. Let us wait and see what happens in the coming days.