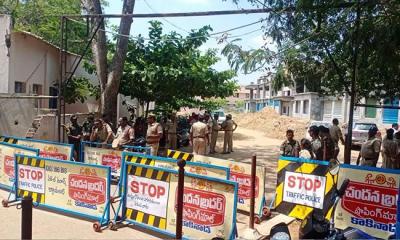 The mysterious death of YSRCP MLC Anantha Uday Bhaskar's former driver Subramanyam in Kakinada continues to raise the political heat. The family members are not showing any signal of stepping back in protesting against the MLC. According to the family members, the MLC's followers might have killed the victim.
It's been two days since the death happened and the family members are not letting the post-mote happen. Raising doubt about the MLC's role in the incident, they have been protesting saying that the MLC should be arrested and an investigation should be held to look into the matter.
The Kakinada Government General Hospital is seeing a tense situation with the police personnel deployed at the establishment. The issue took a big political turn with the political parties joining the force to protest against the MLC demanding his arrest. With this, police were deployed outside the hospital to see that no unwanted scenes take place.
As the post-mortem is the key to knowing the reason behind the death incident, the police department is trying its best to conduct the post-mortem. However, the victim's wife is believed to have not given her nod for the same.
It has to be mentioned here that, earlier this week, the MLC's driver was brought to his house by the MLC. The driver's family members have been saying that the MLC and the driver had some issues and that might be the reason behind his death.