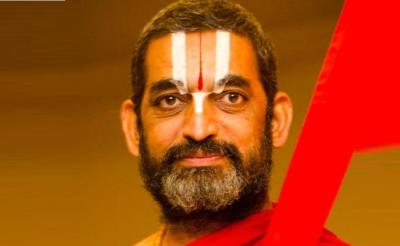 Popular Vaishnava Seer Chinna Jeeyar Swamy is a known face to the people of two Telugu states. After the inauguration of the Statue of Equality, people outside the Telugu states as well started to talk about him. More than the statue, the political statements he made grabbed everyone's attention.
Chinna Jeeyar Swamy praised Prime Minister Narendra Modi to the level of the sky and surprised many. Many say that the seer showering praises on the Prime Minister did not go well with CM KCR and that is the reason why Chinna Jeeyar Swamy was not invited to the Yadadri temple reopening function despite him playing a key role in the renovation process.
Now Chinna Jeeyar Swamy made political statements yet again and made people talk about him. As he is touring Andhra Pradesh now, he attended a meeting. Addressing the gathering, Chinna Jeeyar Swamy took a dig at the condition of the roads in the state and said that traveling on roads in AP is a memorable experience.
Sounding satirical, the seer said that they traveled from Jangareddygudem to Rajahmundry and had an unforgettable experience. When he said that the journey was good, people present at the meeting busted into laughs.
Chinna Jeeyar Swamy's comments on Prime Minister Narendra Modi raised many questions on what made the seer utter such political statements. Now he made similar comments. However, this time he took a dig at the bad condition of the roads.