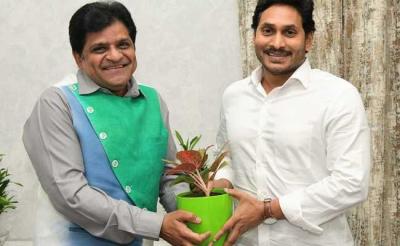 Andhra Pradesh nominated seats to Rajya Sabha and actor Ali go hand in hand. Whenever there is such a possibility, Ali's name pops up. As four seats from the state will get vacated in the Upper House and the YSRCP has the strength to send four members, Ali was expected to get the Rajya Sabha seat.
Sadly for him, Ali was not selected for the posts. After keeping his silence on the issue, Ali finally broke his silence on missing the opportunity to get the Rajya Sabha seat. I have no regrets about not getting the nomination as I did not expect that, Ali said.
Showing his loyalty to YSRCP, Ali said that he has no issues or regrets about not getting the nomination. Keeping the Rajya Sabha seat issue aside, I am ready to work for the party and I will be happy to take up any post the party wants me to take up, he said.
Concluding, Ali said that, he is in this position in the industry with the blessings of director S V Krishna Reddy and in the same fashion, Jagan is helping him and he is happy to be supported by the Chief Minister of the state.
Since 2019, Ali is often hitting the headlines with reports suggesting that the popular actor might get nominated to any house as he is a strong supporter of YSRCP and campaigned for the party during the 2019 polls. However, he could not get the seat due to various reasons.