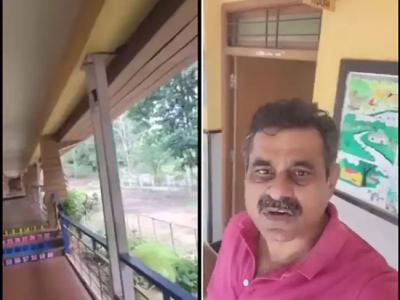 Konda Vishweshwar Reddy, who hails from an educated family, who encouraged him to pursue his favorite field tried his luck in politics as well and contested the 2014 general elections in Telangana, which marks the first polls after the state was bifurcated. Having contested from Chevella, he won the polls with a big margin.'
While no one knows, what happened, he had developed some issues with the TRS and left the party in 2018. Later, he joined the grand old Congress and left the party as well. A lot is being said about Reddy on which party he might join. Many say that he would take teh BJP route.
Through his actions and words, Konda Vishweshwar Reddy is proving himself as a big critic of TRS and Chief Minister KCR. He is not missing any chance to target the party and the Chief Minister on any matter, be it the facilities or the governance.
As the ruling Telangana Rashtra Samithi is constantly playing the comparison game to highlight how the state is doing well compared to the other states, Konda Vishweshwar Reddy used the same weapon to target the TRS led by KCR.
Konda Vishweshwar Reddy was in the western Indian state Goa recently. During his visit, he visited a state-run school in Goa and said that despite being in the village area the hospital has the best facilities.
The former MP drew a comparison between the state-run schools in Goa and Telangana and said that Telangana can't even stand in the competition as Goa is doing well in this area. Alleging that the schools in Telangana don't have proper facilities and students often complain about toilets, Reddy said that Goa is doing well in terms of facilities.
 Looks like the former TRS MP is attacking TRS with its own weapon, which is comparing Telangana to other states. Doing the same, he targeted the TRS. In a video, he shared on his Social media, the ex-MP did a tour video inside the school and said that the schools are so good that even the private schools cannot give it a competition.