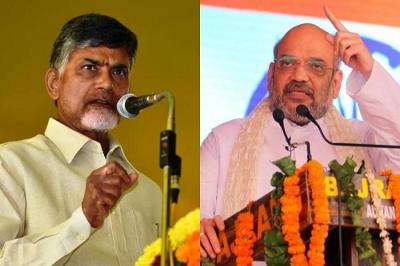 The political circles are hotly debating as to why a senior politician of five decades standing and the longest serving CM in AP like Chandrababu Naidu is unable to secure an appointment with either Amit Shah or Narendra Modi.  Why is he filing to meet the top brass of the central BJP? This question is tormenting several political watchers.
Chandrababu is the national president of the TDP and has been in power for as many as four terms. He was the pivot of the National Front and the BJP-led NDA. He has made and unmade prime ministers in the country. Yet, he has been desperately struggling to get an appointment with the BJP top brass. The last time he made a frantic effort to meet Amit Shah was six months ago.
He sought Amit Shah's time in the wake of the attack on the TDP headquarters in Tadepalli. He wanted to raise the issue with Amit Shah. But, Amit Shah did not give him an appointment. Despite spending nearly three days in Delhi, he could not get to meet Amit Shah.
What is shocking for the TDP is that a political lightweight like KA Paul could secure an appointment with Amit Shah. Paul explained about the attack on him by the TRS goons and later told the media persons that Shah advised him to seek an appointment with the Prime Minister. Why is Chandrababu failing to accomplish what KA Paul could do.