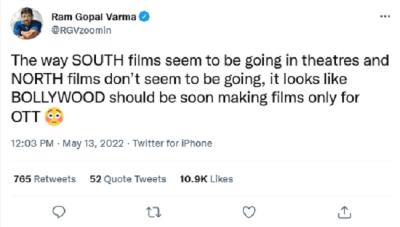 Maverick filmmaker Ram Gopal Varma cannot stay away from the news. He craves for attention and used an opportunity to create a controversy and gain popularity. He makes movies on sensitive subjects and creates a huge controversy so that his films get much-required attention. He comments on everything starting from Tollywood affairs to national topics. With Bollywood movies failing to get good collections at the box office while South films are getting huge reception all over the country, he recently made some sensational comments on Bollywood.
He wrote, "The way SOUTH films seem to be going in theatres and NORTH films don't seem to be going, it looks like BOLLYWOOD should be soon making films only for OTT." This is a strong statement from the 'Shiva' director and it is sure to raise a lot of debate among the film circles. While it is true that Bollywood is going through a rough patch at this point in time, many feel that there is no need for RGV to make such sarcastic comments.
In the past too, RGV made some controversial tweets about the Hindi film industry. He said, "Bollywood will be now getting ducked from both front and back as they neither seem to know how to make superhits nor can they hope to survive on remaking south films because nobody will sell them REMAKE rights. Moral of the story is it's smart to release dubbed films instead of remaking them because it's obvious that the audiences are ok with any face or any subject from anywhere as long as it interests them."
He also stated, "TELUGU and KANNADA films have INFECTED Hindi films like a COVID VIRUS..Hoping that BOLLYWOOD will soon come up with a VACCINE."