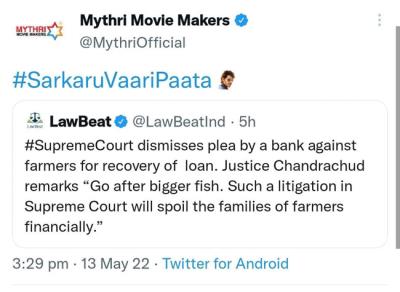 We speak highly about the heroics of soldiers who protect us from our enemies. Sadly, most of the time, we don't talk or prairie about the farmers, who feed us. The sad reality of farming is that many of them can't feed their families despite cultivating crops on big agricultural farms due to many reasons.
On top of this, they are often harassed by the banks when they could not pay back their debts. They had to go through a lot while paying the dues. The recovery agents and banks won't understand the fact that agriculture is based on water and no one can predict the rains.
When we hear news about farmers being harassed by the banks, one thing that flashes in our minds is why don't the banks behave the same way as big shots who take money in big numbers and won't pay it back. Earlier, we have seen how Vijay Mallya showed stars to various banks.
Now the Supreme Court had also said the same. Hearing a petition filed by the bank to seek directives to recover the loans from the farmers, the Apex Court quashed the petition and said that such petitions make the families of the farmers, even more, weaker financially. The Supreme Court told the bank to catch big fish first and later they can go after small fish like the farmers.
What happened in the entire issue forms the plat of Super Star Mahesh Babu's recent outing Sarkaru Vaari Paata, which questions the banking system on how it acts strongly against the weak and weakly against the strong. After the court verdict, the makers of the film shared the verdict on social media.