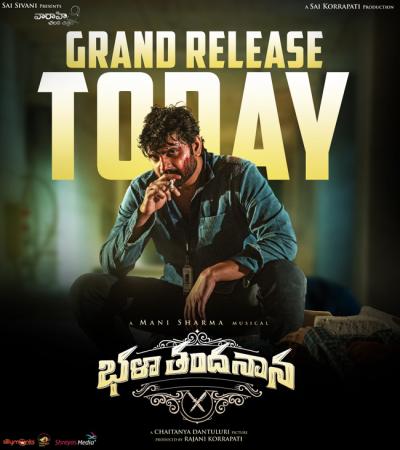 'Bhala Thandanana' Movie Review
Cast: Sree Vishnu, Catherine Tresa, Ramachandra Raju, Posani Krishna Murali, Satya, Ayyappa Sharma, Srinivas Reddy, Chaitanya Krishna, Ravi Varma, Srikanth Aiyyengar and others
Music: Mani Sharma
Cinematography: Suresh Ragutu
Story - Dialogues: Srikanth Vissa
Producers: Rajani Korrapati
Screenplay - Direction: Chaitanya Dantuluri
Talented hero Sree Vishnu created a separate image of himself with his unique script selection. He seems to have moved away from his usual style in recent times and is selecting mass concepts that are not working out at the box office. Director Chaitanya Dantuluri who made a good debut with 'Baanam' has failed to live up to his expectations since then. Both Vishnu and Chaitanya decided to team up now and they came up with 'Bhala Thandanana' which is produced under Sai Korrapati's 'Vaarahi' banner. Let us see whether they managed to impress the audience or not.
Story:
Chandu (Sree Vishnu) is an accountant in an orphanage. He forms a bond with journalist Sasirekha (Catherine Tresa) who arrived to cover a news story at the orphanage. They grow closer to each other. In the meanwhile, Anand Baali (Garuda Ram) does Hawaala business with the support of businessmen and politicians. Sasirekha writes a story about Anand Baali's two thousand crores getting stolen. A few rowdies kidnap Chandu and it is then everyone knows that there is a link between Chandu and the stolen two thousand crores. What is his connection with that money? Did Chandu steal it? What did he do with such a huge sum? All these questions will be answered in the movie.
Analysis:
Hero appearing as an ordinary guy for a large part of the film and giving a complete 180-degree turn to his character to make the audience involved is a tactic that has been used in numerous movies. People were shell-shocked when they saw this twist for the first time in 'Pokiri' but they slowly got used to it as many filmmakers tried to do the same thing. If the filmmakers want to use this kind of screenplay, they need to make sure that the proceedings are quite gripping and the story needs to be something new. Moreover, it has to contain a strong emotional factor that makes the viewer invested in what is unfolding on the screen. 'Bhala Thandanana' had these ingredients in very small quantity and there is nothing to engage or excite the audience. It is okay when you watch it for passing time but we expect something better from people like Sree Vishnu, Chaitanya and Sai Korrapati who are known for their taste.
We have recently seen Ravi Teja's 'Khiladi' which dealt with a ten thousand crore scam in the silliest way possible. When the movie revolves around money, it is important to bring a sense of seriousness among the viewers. They need to understand how huge the money at stake is and it shouldn't be shown in a silly manner. People who watched Mani Ratnam's 'Donga Donga' might understand how vital it is to make the proceedings gripping when the film revolves around money. But writer Srikanth Vissa who penned the stories of both 'Khiladi' and 'Bhala Thandanana' has come up with some unusual scenes that make the movie look like a child's play rather than a serious crime. There is no intensity in the proceedings as the hero plans within seconds, forms a team within minutes and successfully completes the mission within hours. He does this without breaking a sweat and goes into the villain's den to give a warning. All this happens without any proper challenge to the hero and it is important to remember that it is not a comedy film like 'Blade Babji' but a serious action film.
But if we keep the logic and twists aside thereby looking at the film with zero expectations, 'Bhala Thanadanana' partly engages. But we have to be patient for the first hour as the innocent role of Sree Vishnu doesn't create any kind of interest among the viewer. There is nothing new in Catherine's role too. Their love story too appears quite regular too and there is nothing special in the villain's introduction too. The interval twist lifts the spirits of the audience and the second angle of the hero impresses the audience. The screenplay is a bit quicker in the second half and things get a bit interesting. But there is no intensity or emotional connection to the audience which works against the film. The pre-climax and climax are okay but he doesn't reveal the motive behind the hero's actions. Some parts remind the audience of 'The Wednesday) and the team even announced the second part for 'Bhala Thandanana' too. We need to see if it takes off or not.
Performances:
The boy next door roles seem to have bored Sree Vishnu as he is going for mass hero roles. It is a role that should be done by a mass hero. Though some may find it hard to digest seeing Sree Vishnu in a mass avatar, he did a decent job. He showcased good variation between the two shades. We often wonder what would be the film's outcome if it had fallen into the hands of a big hero.
Catherine appeared on the Telugu screen after a long time. She seems to have put on some weight but she is adorable as usual. Her acting is okay. Garuda Ram had nothing special to do in this movie and Posani got a tailor-made role in which he makes the audience laugh at times. Satya was decent too and the rest of the cast are fine.
Technicians:
Mani Sharma who disappointed everyone with his work in 'Acharya' did not given anything special for this film too. We will be shocked when we see Mani Sharma's name in the titles as none of the songs get registered and background scores were a let down too. Suresh Ragutu's cinematography is good and the visuals added a lot of impact. There is nothing new in Srikanth Vissa's story but he comes up with some brilliant dialogues at times. Chaitanya Dandtuluri tried to make the proceedings interesting with the screenplay but there is nothing new in the story and the movie wasn't gripping either. There are no scenes that get the audience invested and the director walks out with average marks.
Verdict: 'Bhalaa Thandanana' - Not Impressive Enough
Rating: 2.5/5    
Disclaimer : This Review is Just An Opinion of One Person. Please Do Not Judge The Movie Based On This Review And Watch Movie in Theatre