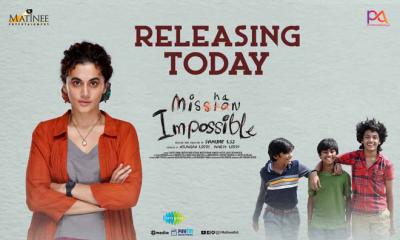 Movie : 'Mishan Impossible'
Cast: Harsh Roshan, Bhanu Prakshan, Jayateertha Molugu, Taapsee Pannu, Ravindra Vijay, Harish, Harshavardhan, Sandeep Raj, Suhaas and others.
Music: Mark K Robin
Cinematography: Deepak Yeragara
Editor: Raviteja Girijala
Producers: Niranjan Reddy & Anvesh Reddy
Writer - Director: Swaroop RSJ
Taapsee Pannu is back on the Telugu screen with 'Mishan Impossible'. She is playing a key role in this film which revolves around three children. This bounty hunting drama is directed by Swaroop RSJ who made a stellar debut with 'Agent Sai Srinivasa Athreya'. The trailer which came out a few days ago got a very good response and movie lovers were quite excited to see this film. Let us get to the review straight away and find out more about the movie.
Story:
Raghupathi (Harsh Roshan), Raghava (Bhanu Prakash) and Rajaram (Jayateertha) are three kids who live in Vadamaala Peta near Tirupathi. They are not interested in studies but want to become famous. They dream of their photos getting printed in newspapers and getting a lot of money. They want to get the prize money of 50 lakhs which will be given to those who catch Dawood Ibrahim. 
They run away from their village and reach Bengaluru to get that reward. In the process, Rajaram gets kidnapped and the remaining two get worried. They end up finding journalist Shailaja (Taapsee) who is trying to catch human traffickers who export children. How did Shailaja use these children to complete her mission as well as rescue Rajaram in the process forms the rest of the story.
Analysis:
Swaroop RSJ proved his ability with 'Agent Sai Srinivasa Athreya' and amazed everyone. With the acclaim he received, he could have convinced a big hero and big producer for an interesting film. But he chose to take the risk by making a film with three youngsters. This needs to be appreciated as he gave importance to the story more than the cast. After looking at the trailer, a lot of people praised him for picking up an interesting concept. The expectations grew on this flick but Swaroop failed to reach them in theatres. Despite having a good storyline, the lack of seriousness and logicless screenplay at times made the film's graph fall down drastically.
The film is about three kids who try to catch Dawood Ibrahim and get a 50 lakhs reward. Dawood created havoc in the nineties and went to Pakistan. Three kids from a village deciding to catch looks outright silly. But these ideas come into the minds of twelve-year-old kids which makes them justified. Also, we do not think of logic during the comedy portions in the first half. The director has prepared the audience right from the introduction itself which shows the brilliance of Swaroop. Raghupati wants to be a director after getting inspired by RGV. Raghava wants to avoid studies but decides to get 1 crore from Meelo Evaru Koteeswarudu. Rajaram considers himself as a fast bowler but he gets smashed by almost every person in the village. There are a few comedy scenes like readying a promo of 'Meelo Evaru Kotseeswarudu which are highly entertaining.
But the director who impressed with his introduction scenes and a few more lost his grip once the story started to pick up. The film takes a non-serious turn and becomes so silly after a stage. Even the comedy scenes doesn't make you laugh as the children asked for Bombay bus and ignore Mumbai buses that arrive and go. Such a few scenes test your patience. What makes it even strange is the fact that Taapsee getting convinced that these three innocent kids are suitable to catch such huge criminals who make a living by kidnapping people.
The seriousness in the first half goes completely missing in the second half. The entry of kids into the villain's den, Taapsee's plan and all the other things in the latter part are not at all convincing and people get disconnected from the film without even noticing it. Taapsee who is known for picking up good roles in Hindi has surprised everyone by choosing to be part of this film. Most of the sequences are illogical and people will not be connected to the climax portions. The three kids cannot be elevated and the villains don't look scary at all. We cannot do anything except wonder why Swaroop RSJ who made 'ASSA; made 'Mishan Impossible' as his next film.
Performances:
The three kids performed very well in the film. They were spot on when it comes to expressions and all three of them complimented each other. The innocence and over smart nature of these kids were portrayed well. Harsh took the center stage whenever he was on the screen and has all the qualities to be a hero after a few years.
Taapsee did not have a lot of scope to perform. She looked like a special character in this film and her role is not etched properly. Sandeep Rej, Suhas, Rishab Shetty others did well in the limited screen time given.
Technicians:
Mark K Robin's music has suit the thriller genre and stood as one of the attractions of this film. His background scores tried to elevate the film while his songs are hard to remember. Deepak Yeragara's cinematography is quite good and the visuals suited the film's theme. The producers have invested in this film quite adequately.
Director Swaroop had a great opportunity to prove his mettle after 'Agent Sai Srinivasa Athrya' has faltered with 'Mishan Impossible'. The thought of making a film with three kids as the leads is quite appreciable. Their characters were designed well and introduced amazingly too but logic goes for a toss in the film which makes you feel disconnected. Barring a few entertaining scenes in the first half, the film failed to reach the expectations and Swaroop definitely disappointed the viewers.
Verdict: 'Mishan Impossible' - Task Not Completed Well
Rating: 2.25/5
Disclaimer : This Review is Just An Opinion of One Person. Please Do Not Judge The Movie Based On This Review And Watch Movie in Theatre