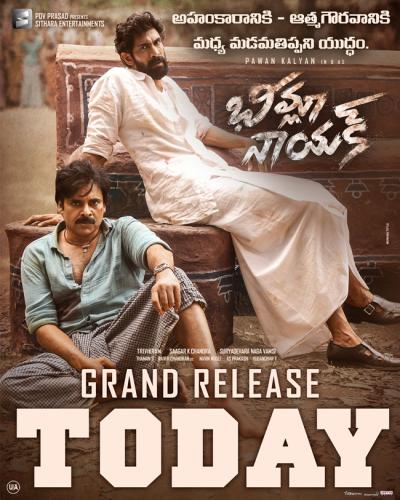 'Bheemla Nayak' Movie Review
Cast: Pawan Kalyan, Rana Daggubati, Nithya Menen, Samyuktha Menon, Murali Sharma, Samuthirakani, Rao Ramesh, Raghubabu, Tanikella Bharani, Narra Seenu and others
Music: Thaman
Cinematography: Ravi K Chandran
Story: Saachi
Producers: Suryadevara Naga Vamsi
Director: Sagar K Chandra
Screenplay – Dialogues: Trivikram Srinivas
Powerstar Pawan Kalyan has finally arrived with his 'Bheemla Nayak' directed by Sagar K Chandra. This remake of 'Ayyappanum Koshiyum' has Rana Daggubati challenging him onscreen as the antagonist. A lot of noted actors played key roles and Trivikram penned the dialogues for this movie. There are massive expectations on this film and let us see how 'Bheemla Nayak' turned out.
Story:
As said earlier, the film is a fight between Pride and Self-Esteem. Bheemla Nayak (Pawan Kalyan) is a sincere and aggressive Sub Inspector. He has a very good reputation among the poor and is known for his helping nature. Daniel Shekhar aka Danny (Rana) is the son of an MP. They both begin to lock horns with each other as Bheemla catches Danny transporting alcohol illegally. Bheemla arrests Danny for speaking arrogantly and even files an FIR apart from beating him.
While Bheemla Nayak calms down, Danny's ego is hurt and he decides to get revenge. What hurdles did Bheemla face? How did he respond? How far did this battle between Bheemla and Danny go? All these questions will be answered on the big screen.
Analysis:
From the past few years, Pawan Kalyan is focusing more on remakes. He turned 'Dabangg' into 'Gabbar Singh', 'Pink' into 'Vakeel Saab', 'Love Aaj Kal' into 'Teenmaar'. The filmmakers found a formula for these remakes to be successful at the box office. They take the original story, make a few corrections to suit the image of Powerstar and give a mass touch to a class subject. This is working well so far and they did the same for 'Bheemla Nayak' too. As we know, the film is a remake of the Malayalam film 'Ayyapanum Koshiyum'. Trivikram and young director Sagar K Chandra turned the Malayalam film which had a class touch into a commercial film that suits the taste of the Telugu mass audience. The movie will be immensely liked by the people who did not watch the original but the movie lovers who fell in love with 'Ayyappanum Koshiyum' will feel that 'Bheemla Nayak' is way too commercialized for their liking. Nonetheless, 'Bheemla Nayak' is a commercial film with a strong story that will be enjoyed by the regular Telugu cinema lover.
The film is promoted as 'Pride Vs Self Esteem' but Bheemla and Danny are two people with a lot of egos. While Bheemla Nayak is under control due to the police uniform, Danny often crosses the line and acts rudely with others. The film revolves around these two characters who won't back down even when their egos are destroying them. The film teaches you what happens when anger goes out of control in an indirect manner whilst sugar-coated with all the commercial ingredients. The story is quite simple but the film's strength lies in the narration. The makers did not waste any time in character introductions and establishments as they showed us the conflict between the lead actors in the first five minutes. With minor twists, the film runs in an engaging manner. The movie revolves around a small issue that can be settled at any particular moment in the film but it is blown out of proportion due to the ego of both characters. This thread has been told in a very interesting way.
On the entertainment front, 'Bheemla Nayak' is an update on 'Ayyappanum Koshiyum'. The racy narration is the biggest difference between both films. While the Malayalam film is quite silent and subtle with fewer dialogues and composed background score, 'Bheemla Nayak' is quite opposite to it. There is 'Loudness' in this film which will suit perfectly to the Telugu audience and image of Pawan Kalyan. This flick will have powerful dialogues, thunderous background scores, huge fights, grand songs and a lot of shouting too. Despite having all these, the soul of the original doesn't get disturbed in 'Bheemla Nayak'. Scenes that were quite repetitive and boring in 'Ayyappanum Koshiyum' are replaced by some attractive ingredients in 'Bheemla Nayak'.
There are a lot of highlights in 'Bheemla Nayak'. The face-off scenes between Pawan Kalyan and Rana came out fantastically and make the people go crazy every time. Both of them gave stunning performances and elevated the film to a whole new level. We have seen Pawan Kalyan in such a character before but it is Rana who is the surprise package in 'Bheemla Nayak'. He did a stupendous job. Director Sagar K Chandra and writer Trivikram Srinivas included a few scenes to cater to Pawan fans which worked brilliantly. They will be enjoyed by the neutral audience too. They gave a flashback to Pawan's character and add a small twist in the ending which makes 'Bheemla Nayak' special. The twist is quite convincing and gave a perfect end to the film. Trivikram's comedy touch can be seen during the last conversation between Pawan and Rana. The audience will step out of the theatres with a positive feel thanks to Brahmanandam's special cameo.
Performances:
Pawan Kalyan was presented in a perfect way. He stole the limelight as the aggressive police officer and the intensity he showcased is amazing. His real-life attitude is visible on the screen at times. Fans will have a blast watching Pawan Kalyan after he takes off his uniform. Though he takes a back seat in the first half, Pawan dominates the entire second half.
Rana's acting needs no introduction. He did a fantastic job as usual and this character will end up as a milestone in his career. He dominated a star like Pawan in certain sequences. Not once will you remember Prithviraj's original character while watching Rana. His presence brought a new dimension to this story. Nithya Menen makes an impact through her brief role.
Samyuktha Menon did a good job and her character was extended in the Telugu version. Murali Sharma and Samuthirakani proved their worth once again while Rao Ramesh provided the much-required entertainment. The rest of the actors are okay.
Technicians:
'Bheemla Nayak' is aided by a strong technical team. Music and cinematography are the unsung heroes of this film. The tribal atmosphere has been perfectly portrayed through Ravi K Chandran's cinematography and his visuals are great to watch. The color correction suited the theme of this movie while Thaman's background score elevated many scenes. He proved to be the backbone of this movie once again. The placement of the songs are good and Naga Vamsi did not compromise when it comes to production values.
Trivikram as a writer showed his class once again. The changes he made in the original worked out brilliantly and the twist at the end turned out great. His dialogues are applause-worthy once again. Trivikram's script is perfectly executed by Sagar K Chandra and the young director must be appreciated for handling such big stars with such conviction. He did a great job in handling the remake.
Verdict: Powerful 'Bheemla Nayak'
Rating: 3/5
Disclaimer : This Review is An Opinion of One Person. Please Do Not Judge The Movie Based On This Review And Watch Movie in Theatre