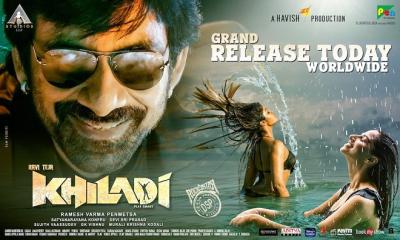 'Khiladi' Movie Review
Cast: Ravi Teja, Dimple Hayathi, Meenakshi Chaudhary, Arjun Sarja, Unni Mukundan, Anasuya, Rao Ramesh, Vennela Kishore, Anup Singh Thakur, Mukesh Rishi and others.
Music: Devi Sri Prasad
Cinematography: Sujith Vasudev, GK Vishnu
Editor: Amar Reddy Kudumula
Producers: Satyanarayana Koneru
Distributor: Pen Studios
Writer-Director: Ramesh Varma
Mass Maharaj Ravi Teja who made a superb comeback last year with 'Krack' has arrived once again with 'Khiladi'. The film was postponed several times due to Corona but the film has hit the screens today under a lot of hype and expectations. The songs got good response from the masses and so did the theatrical trailer. Directed by Ramesh Varma, this movie is produced by Satyanarayana Koneru. Let us dive into the review straight away!
Story:
Gandhi (Ravi Teja) is an orphan who has immense respect towards Rajasekhar (Rao Ramesh) for looking after him since childhood. Gandhi, Rajasekhar and his entire family get stuck in a deal that involves Chief Minister's ten thousand crores. Home Minister Guru Singham (Mukesh Rishi) is a part of this too. Gandhi's wife and her parents die in due process and Gandhi gets convicted. His daughter becomes alone and psychology student Pooja (Meenakshi Chaudhary) decides to help him by filing a special petition. Pooja gets shocked after realizing Gandhi's real identity and this leads to a lot of twists and turns that should be watched only in the theatres nearby.
Analysis:
Ravi Teja is synonymous with energy. People got used to seeing him create a storm onscreen whether it is action or comedy or emotion. He is known for going all out on goons in every movie but he takes all the beating in 'Khiladi' and even looked helpless while the baddies kill his family. Fans cannot digest such scenes and Mass Maharaj shocks the audience with such a dull display in the first hour of 'Khiladi'. The atmosphere in the theatres got dull looking Ravi Teja in such a dull fashion. But things take a drastic turn after the hour mark. The real Ravi Teja jumps onto the screen fooling, not just the characters but also the audience. People remember the twist in 'Darling' at the interval point. Though everything in the first half was a lie in 'Darling', the makers gave a beautiful world filled with romance. But the audience felt like they watched nonsense till then rather than getting surprised with the twist. The audience hoped that things would take a positive turn from there on but it is not what happened.
Director Ramesh Varma who shocked the audience with his 'Darling' touch till then, takes the 'Race' route in the second half. Starting from the interval, the twists get non-stop till climax in order to keep the viewer guessing. The latter half is filled with characters outsmarting each other in order to grab the money. A twist hits the audience every fifteen minutes and the logic in the screenplay goes for a toss. Proceedings would have been better if all the twists and thrills were interesting but they are outright silly and there is no proper challenge for the hero during this part. Twists should surprise the audience instead of making them laugh. This is the main problem of 'Khiladi' as there is no seriousness in the proceedings.
The director designed the hero's character in such a way that he defies all logic. He goes to jail whenever he wants and comes out. He sends a mole in the villain's den in Paris with the help of a hacker and finds out about the money. The hackers finds everything with one click and despite having a lot of villains and government officials against him, the hero just cruises past them with such ease.
Keeping the story and screenplay aside, the director stuffed 'Khiladi' with all the mass ingredients. There are many twists to keep you invested provided you don't care about the logic. Mass Maharaj is at his energetic best from the interval and his mannerisms, action sequences along with dialogues please his fans. Both the heroines gave a glamour feast to the frontbenchers and the songs were well picturized. These elements were included in proper proportions but where Ramesh Varma faltered is in having a serious story and screenplay. People may find it difficult to enjoy 'Khiladi' if they forget to keep their brains at home.
Performances:
Ravi Teja definitely pleased his fans with 'Khiladi'. Despite appearing dull and out of form till the first half, he exuded energy from the interval point and did all he could to carry this film. This may not be his performance but he delivered what he could. Dimple Hayathi lit the screens on fire with her glamour show. None other heroines in recent times has indulged in such a heavy skin show and she is sure to grab a lot of attention. She looked a bit average in most parts which did not require skin show and there was nothing much to do for her in terms of acting. Meenakshi did her best to contribute in terms of performance but her character is underdeveloped. She provided the glamour feast in one song but it was nothing compared to Dimple. Anasuya did well in the character that had a lot of shades. She looked quite hot in 'Khiladi' compared to her previous outings. Action King Arjun's role has no substance and it is not what you expect from an actor of that stature. The villain's list includes a lot of big names like Mukesh Rishi, Anup, Nikitan, Sachin Khedkar and others but they failed to create an impact. Unni Mukundan, Rao Ramesh, Murali Sharma, Vennela Kishore did a decent job.
Technicians:
Devi Sri Prasad's output depends on the story and screenplay of the film. He is not the kind of composer who tries to give his best even when the movie is bang average. He delivers decent songs which looked good onscreen thanks to the glamour of the heroines. He gave impactful background scores which compliment the scenes but never elevated them. Visuals by Sujeeth and GK Vishnu are good while the production values are top-notch. Srikanth Vissa and Sagar's dialogues fail to pack a punch. Writer-director Ramesh Varma got inspired from a lot of movies for 'Khiladi' and failed to showcase his mark while making such an action thriller. He tried to mix a serious thriller with regular commercial ingredients which did not work out. His work left a lot to be desired.
Verdict: Khiladi - A Masala Thriller Gone Bad
Rating: 2/5