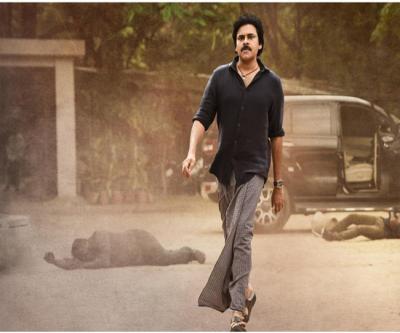 Hadnt it been for the persuasion from Rajamouli Pawan Kalyan and Ranas Bheemla Nayak would have hit the silver screens on the 12th of January. But that wasnt to be as the Covid third wave set in and Tollywood had to indefinitely postpone the release of big ticket films in view of the Covid outbreak and also the 50% seating capacity regulations that were passed by the government of Andhra Pradesh. Soon after the makers of Bheemla Nayak announced that the film will be releasing in theatres on the 25th of February. The makers hinted that they are ready to take on the Covid situation and the 50% occupancy norm in cinema halls across Andhra Pradesh.
The makers had even issued statements and dropped social media posts saying the USA premieres of Bheemla Nayak will be screened on the 24th of February meaning the film would be sticking to its 25 February release plan. But this is also turning out to be a bummer now as there are fresh reports claiming that Bheemla Nayaks release has been postponed indefinetely. It is heard that the makers of Bheemla Nayak will be officially announcing the postponement of release much to the dismay of fans.
The fact that Sharwanands Aadavalu Meeku Johaarlu has locked the 25 February release slot which was initially locked for Bheemla Nayak indirectly confirms that Bheemla Nayak is not releasing on the same day. There is no way that the makers of the Sharwanand starrer lock the same release date as that of Bheemla Nayaks. This clearly implies that Bheemla Nayak has been pushed to a later date.
Bheemla Nayak is said to be eyeing the Ugadi release slot in case Chiranjeevis Acharya gets postponed which is looking increasingly likely now. More details about the new release plans of forthcoming Tollywood biggies will be out in the days to follow. But as things stand Pawan Kalyan and Ranas Bheemla Nayak is not arriving in theatres on the 25th of February. The new release date announcement is not too far from now though. The film is in the final leg of production now.