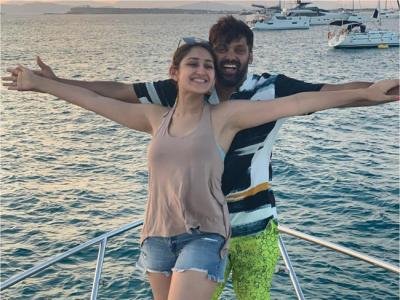 It is known that Tamil star couple Arya and his wife Sayyeshaa got the married a few years ago and the couple even welcomed a new baby girl into their lives very recently.
Now Arya and Sayyeshaa have gone on a leisurely vacation to ta foreign country and they are spending some quality time together.
In the latest snap shared by Sayyeshaa she and Arya are seen striking a pose similar to that of the iconic one in Titanic. The bonding between the couple is clearly visible in this snap as they are all smiles as they pose to the camera.
Feeling the titanic moment Ibiza! With my hubzy aryaoffl goodtimes throwback fun ocean. Sayyeshaa captioned the snap of herself alongside Arya.
This lovely snap is now going viral on social media as everyone is in awe of the lovely bonding between the star couple.