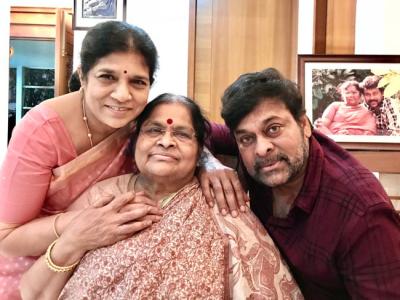 Megastar Chiranjeevi Anjana Devi is celebrating her birthday today and Chiru usually has the habit of spending quality time with his mother on her birthday every year. But this time around, Chiranjeevi is unable to spend time with his mother.
It is known that Chiranjeevi had tested positive for Covid recently and he is currently in quarantine and that is the reason why he is unable to spend time with his mother. Chiru took to Twitter to share an emotional message pertaining to the same.
"As I am in quarantine now, I am unable to take your blessings this time. I wish to be your son and seek your blessings continually. Yours Shankara Babu (Chiranjeevi's real name is Shiva Shankara Vara Prasad)." Chiranjeevi tweeted a whort while back.
Well, the fact that Chiranjeevi is unable to seek blessings from his mother this year as he is currently in quarantine appears to be dampened his mood.
Chiranjeevi is now said to be in route to recovery and he is expected to test negative for the virus very soon.