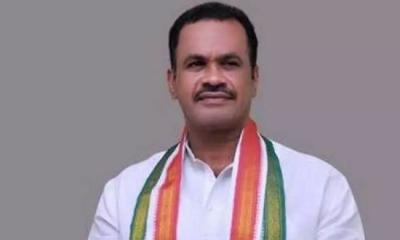 An interesting trend in Telangana politics is that more and more MPs are beginning to feel that being an MLA is a better thing to do than becoming an MP. BJP MP Dharmapuri Aravind has already chosen Armur as his constituency and has already taken on sitting TRS MLA Jeevan Reddy.  Now another MP is joining the "become MLA brigade."
Nalgonda strongman and senior Congress leader Komatireddy Venkat Reddy is said to be seriously mulling the proposal to contest as an MLA from Nalgonda. He is currently an MP, but his preference is to become an MLA when elections are held in 2023. He is already said to be doing the groundwork for the assembly elections. He feels that he can take on Revanth Reddy better and can position himself as Revanth's rival for the CM seat if the Congress wins the 2023 election.
Komatireddy is a four time MLA from Nalgonda district. He won in 1999, 2004, 2009 and 2019. He was a minister too for some time. In the 2018 elections, he contested from Nalgonda and got a ticket for his follower Chirumarthi Lingaiah from Nakrekal. Though he had succeeded in ensuring Lingaiah's victory, he himself could not win. He lost to Bhupal Reddy of the TRS. He later won as an MP from Nalgonda in the 2019 elections.
Now, Komatireddy Venkat Reddy is actively planning to contest for the assembly. According to those close to him, this will help him keep in touch with his voters. However, political watchers say that he wants to challenge Revanth Reddy's plans to emerge as the CM candidate in case the Congress wins the 2023 elections.