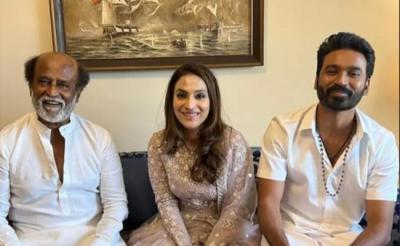 The news of Tamil star hero Dhanush and Rajnikanth's daughter Aishwarya deciding to get a divorce has shocked everyone. After 18 years of marriage, Dhanush and Aishwarya decided to part ways. Both of them started to focus on their work immediately.
While Dhanush is working on films like 'Sir' and others right now, Aishwarya is shooting for a heartbreak song for which she is the director. Produced by Bay Films, this song will be coming out on Valentine's Day. The work of this song is in full flow and she forgot to change the name of her social media handles.
Aishwarya is still carrying Dhanush's name on all social media platforms even after the divorce. Interestingly, both Dhanush and Aishwarya are staying in the same Sitara Hotel in Hyderabad as both of their shootings are going on in Ramoji Studios.
Dhanush's father recently said that their split is just because of a family quarrel and even stated that the divorce is yet to be filed. Dhanush is currently in the best form of his career with blockbusters like 'Vada Chennai', 'Asuran', 'Karnan', 'Atrangi Re' and others in recent times.